Liz McWatt

Verified Professional

Every professional displayed on Nutritionist Resource has been independently verified by our team to ensure they have suitable credentials to practise.
Registered Nutritional Therapist, Nurse & Homeopath
Kendal LA9 & Carlisle CA3
About me
Testimonials
"Liz has helped me identify my food intolerances and make a huge change to my diet which has in turn has had a massive positive effect on my daily life. Consultation is relaxed and informal and Liz makes me feel at ease. I wish I had sought advice from Liz years ago".
KFA Preston
"I have always admired Liz's commitment in helping me with my health issues. She comes alive when sharing knowledge. I've never met a holistic worker who is as passionate, and shows as much compassion as Liz. Her approach with me has always been professional and warm. I always feel safe with her, and trust her completely.
She is a congruent person, and I will always recommend her to others".
GP Knutsford
Established in 1996 with a wide skill set founded on professional training, qualifications and  clinical experience. I am experienced in dealing with complex cases and chronic health conditions.
I believe good nutrition is the foundation of robust physical and mental well-being.
I understand that you are making a big commitment when you choose a professional like me to support you in working with your health and lifestyle issues. I want to help you to feel confident that if you decide to make an appointment to come and see me, that I am the right person to help you work with whatever your unique needs are.

I am a skilled and experienced Practitioner; I have more than 25 years of successful practice as a Nutritional Therapist and this is backed up with 35 years plus professional experience as a Registered General Nurse in the healthcare environment.

I have a wealth of knowledge and understanding based on clinical experience to enable me to support you make the changes you need to get the best from your body to lead a healthy, happy and active life.


Training, qualifications & experience
My own personal interest in Nutrition and complementary therapies first started whilst I was a student nurse. During this time I experienced health problems associated with severe allergy symptoms. I sought the support of an Aromatherapist to help alleviate my symptoms; she was the first person to suggest that the food I was eating might have some bearing on my health! As a result I made changes to my diet which had a significantly beneficial effect on not only my symptoms but my sense of well being and energy levels as well – my passion for complementary therapies was born.

One of the reasons I am so passionate about complementary therapies is that they not only encourage us to take some responsibility for our own health and well-being, but that they can help empower us to lead more fulfilling and rewarding lives as well.

I am a Registered General Nurse with a background is in Occupational Health and Rehabilitation – I have a strong interest in health promotion and a personal philosophy that prevention is better than cure and that vibrant health is a result of nourishing our bodies and our minds and living our lives to the full.

Committed to ongoing education I have studied in depth and hold diplomas in Nutritional Medicine, Homeopathy, Therapeutic Shamanism, Aromatherapy and Therapeutic Massage. As part of my professional training I have also studied the use of Essences, Complex Homeopathic Remedies and had training in Counselling skills.
I am a firm believer in empowering others by education, and work towards bringing the message of health, well being and healthy lifestyle to as wide an audience as possible. With a background in Occupational Health Medicine I am confident and experienced in writing and delivering health promotion presentations within a corporate environment.

I have previously been involved with the professional training of Nutritional Therapy Practitioners and Homeopaths.
I am fully insured and registered with BANT and CHNC
Member organisations

British Association for Applied Nutrition and Nutritional Therapy (BANT)
The British Association for Applied Nutrition and Nutritional Therapy is the professional body for Nutritional Therapists.

There are different BANT membership classes, including Full Member, Fellow Member and Student Member.

All BANT practitioners must have met the required standards of training, be fully insured and adhere to the BANT Code of Ethics and Practice.

Complementary and Natural Healthcare Council (CNHC)
The CNHC encompasses many types of alternative therapy, including massage, aromatherapy and nutrition.

In order to be admitted to the register a practitioner must have studied to the National Occupational Standards for that profession/discipline, or have reached the equivalent of the National Occupational Standards through other relevant training or at least three years of experience and been assessed by their peers.

A practitioner must also have professional insurance and agree to abide by the CNHC Code of Conduct, Performance and Ethics.
Accredited register membership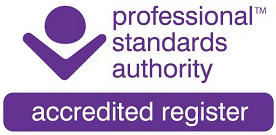 Accredited Register Scheme
The Accredited Register Scheme was set up in 2013 by the Department of Health (DoH) as a way to recognise organisations that hold voluntary registers which meet certain standards. These standards are set by the Professional Standards Authority (PSA).
This therapist has indicated that they belong to an Accredited Register.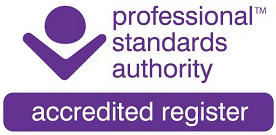 Nutrition topics
Information about health conditions (*)

Nutritional therapy can help enhance the well-being of individuals diagnosed with serious medical conditions, but should not take the place of medical treatment and advice. If you have been diagnosed with - or suspect you may have - any of these conditions, please speak to your doctor before starting nutritional therapy or making any major changes to your diet or lifestyle.
Fees
Additional information
Consultation Packages to suit your individual needs
Initial Nutritional Therapy Consultation with in-depth report (can include Homeopathy & flower essences if required) 90 mins consult £150
Follow-ups 60 minutes £80, charged pro rata for longer sessions
Initial Nutritional Therapy consultation with short action plan tailored to your needs and completed with you during your appointment Up to 90 minutes £95
Nutrigenomic (Genetic) Initial consultation: in-depth analysis of your www.23andme.com genetic data along with your accompanying functional test results £350
Functional analysis of blood test results £50
Functional Testing I can arrange a wide range of tests to suit your individual needs. Please contact me for further details I work with Genova, Cyrex and Acumen Laboratories
When I work
Weekdays with evening appointments available in Kendal
Further information
What can I expect from my first consultation?
When you make an appointment to see me for a consultation, I will set you up on a confidential portal and give you access to a questionnaire to complete prior to your first appointment. If you have had any blood tests done by your Doctor, it would be useful for you to bring the results along with you so that I can assess them from a functional medicine perspective.
At your first appointment I will ask you to tell me in detail about the problems you want help with; I will also ask for details of your medical history, any treatments you may have had, your family history, and your general state of physical and emotional well being. We will also discuss your diet and look at lifestyle factors which may be affecting your health. I may recommend laboratory tests if I feel they would be helpful.

I provide a genuinely holistic approach to Nutritional Therapy which is naturopathic and focuses completely on you, the whole person and what you want to achieve from your appointment.
What you get following your initial consultation:
A personalized dietary programme and supplement recommendation sheet along with detailed handouts to inform you and help you to make the changes as easily as possible. These will be shared with you in the confidential portal within a few days of your appointment.

Interpretation of your blood tests from an functional health perspective along with comprehensive interpretation of any lab tests I recommend.
If you have indicated that you would like Homeopathic Remedies as part of your treatment plan, then these will be sent out with the above information.

It is my intention to support all aspects of your physical and emotional well being along with lifestyle advice to help you life your life to the full.

Why should I have follow up consultations?
Follow-ups are important. They give you an opportunity to discuss in detail any problems you are experiencing and allow me to assess your response to the programme I have set and make any adjustments necessary to optimise the benefits to you.

In addition you will get an updated supplement sheet and diet recommendations where appropriate along with Interpretation of any new test results and additional handouts as appropriate.
I usually recommend that the initial follow-ups are at 4-6 weekly intervals


Support In-between Consultations:
I do give you comprehensive handouts to help support you through making dietary and lifestyle changes. If you are experiencing any problems you will be able to contact me in between consultations.

If you cannot carry out any recommendations because the information is unclear or missing– then you can email or call between consultations to get the information you need.

If you are experiencing problems in response to the programme, one short 15 minute phone call will be included in your initial consultation charge. Any additional time will be charged for. Full consultations are also flexible and can be moved back or forward, depending on your individual needs.
What about supplements / how much will they cost?

The cost of supplements varies and we will discuss what my supplement suggestions are at your consultation. You will receive a supplement recommendation sheet with information about where you can order the supplements for yourself. You will receive a link to the supplement suppliers website which details the prices of the supplements I have recommended.
Supplement recommendations are fully negotiable and tailored to your individual needs. I use the most effective and safe supplements I can source and all recommendations will take into account your financial and practical limitations; for example budget available per month and the ability to swallow capsules etc...
Can I take supplements if I am on medication?
I will check all of your medication thoroughly and advise you of any potential interactions with foods or nutrients.
Note I am unable to give you advice about prescribed medication,  that must continue to be monitored by your medical practitioner.
Nutrigenetics and Functional Tests

What Can Nutrigenetics Do For Me?

Nutrigenetics is the study of the impact of food and nutrients on gene expression and is one of the most exciting fields of health I have studied.
Through understanding your genetic expression, it is possible to design a nutritional therapy programme that is uniquely suitable for your body. If you want a dietary programme, you know is right for you, then a nutrigenetic test, in combination with an assessment of your body from a functional perspective and your health history will give you the information you need to formulate the ideal programme for you.

Food is far more than fuel for our bodies; it contains many biologically active nutrients which are capable of affecting our function at a cell level. Conversely, our genetic make-up can also impact on our ability to absorb and metabolize vital nutrients from the diet.

We are all unique individuals and who we are is determined by two factors: our genes and the environment we encounter. Virtually all disease results from the interaction of our unique genetic susceptibility and its interaction with environmental factors such as the food we eat, whether we exercise, smoking habit, toxin exposure, stress etc... These factors can influence our health by switching genes on and off; this is called Epigenetics. This means that if we are deficient in nutrients or substrates, or exposed to toxins, we are more likely to express unhelpful genes. Importantly these changes affect not only our own health, but that of our children.

Genetic variations do not cause disease but influence our susceptibility to environmental factors this means that armed with insight and knowledge we can intervene and take appropriate measures to optimize our health.
This is actually incredibly empowering and can help you to take control and your state of health and well-being in a more effective way than ever before.

How does Diet impact on genetic Expression
Genetic polymorphisms (snps) relate to enzymes in the body; in fact looking at a genetic report is like looking at blueprint of the body's enzyme function. We have 1000's of enzymes in our bodies and they all have co-factors which in many cases are specific nutrients. Through studying cellular function, nutrigenetics and understanding metabolic pathways in the body, we can see how specific nutrients and foods can impact on cellular function, and therefore on health. In working with these pathways and enzymes we can improve many functions of the body which improves health and can impact on symptoms.

The Methylation Cycle
I have trained with Dr Ben Lynch www.mthfr.net and studied the work of Dr Amy Yasko www.dramyyasko.com in detail; both Ben and Amy have played a significant role in helping us to understand this vital pathway. A key snp in this cycle is the MTHFR gene which sits at the beginning of the cycle helps the body to process folate into a form in which it can use. The correct form of folate is then used by the cycle to form the other products which are crucial for this cycle to function efficiently.
The methylation cycle's key function is to add and remove methyl groups at specific points onto another compound. This may all sound quite technical, but a methyl group is actually just a group of small molecules, similar in size to the water molecule (H2O). Just as water is a key to life, methyl groups are also critical for health and well-being. Methyl groups are simply "CH 3" groups; they contain 'H' like in water and a 'C' like in coal or diamonds. However, these very basic molecules serve vital functions as they are moved around in the body to turn on or off genes.



The role of the methyl groups is basically to repair and direct various functions in the body. In fact this is the cycle which helps to repair DNA and switch off genes so it is critical for our well-being.


There are many snps which have been identified and impact on methylation function. A genetic test will identify these potential problem areas.What is The Function of Methylation?Methylation is one of the most important cycles in the body. It helps us to make and keep our DNA healthy. It also helps us to process chemicals and Detox efficiently. We need healthy methylation to make neurotransmitters and metabolize hormones. Neurotransmitters are the brain chemicals that communicate information throughout our brain and body. The brain uses neurotransmitters to tell your heart to beat, your lungs to breathe, and your stomach to digest. They can also affect mood, sleep, weight, and can cause adverse symptoms when they are out of balance.
Methylation interacts with the Kreb's cycle, the energy production cycle within the cell, so to make energy efficiently, we need to be able to methylate. It helps to keep our nerves healthy by producing myelin, and builds and maintains cell membranes. Methylation has an impact on inflammatory processes by influencing the production of histamine, nitrous oxide and super oxide which can cause free radical damage.

So, all this sounds really exciting, how do you go about having a gene test?
A simple saliva sample is all that you need. The genetic test identifies (snps) which are common genetic variations among people. You can chose to either test a specific cluster of snps such as a cardiovascular profile or DetoxiGenomic profile as offered by Genova Diagnostics www.gdx.net/uk/ or you can do a more comprehensive tests which looks at a wide range of snps such as www.23andme.com.

Genova insist on Nutritional Therapists undergoing training in Genomics before they are able to utilize these tests. I have completed this training.

What Are the Benefits of Genetic Testing?
By testing to look at mutations in the DNA in the methylation cycle it is possible to draw a personalized blueprint of precise areas of your unique vulnerability which may be impacting upon your health. Once these areas have been identified, it is then possible to target appropriate nutritional supplementation of these pathways to optimize the functioning of these crucial biochemical processes.
Interpretation of 23andme Test ResultsI offer an interpretation service for 23andme test results. Please note that interpretation is from a functional perspective only and that any interpretation can only be offered as part of the complete consultation process. A gene test is not diagnostic and needs to be taken in context with your medical history along with any current symptoms before I can make any recommendations on diet and lifestyle factors to optimise your health and well-being.

Most importantly, you should remember 1) that a genetic test is not diagnostic 2) that not all of the genes picked up in your report will be relevant, it is the ones that are being expressed that are important (and these are the ones that relate to your symptoms, history and any health issues. 3) Genes are switched on or off by our environment, this means if a gene is expressing itself and we know what influences it, then we can modify its expression and hopefully reduce your symptoms. 4) Snps govern enzymes; you do not need a polymorphism to block enzymatic function. Co-factor deficiency or environmental toxicity can do this for you

What Are Functional Tests

Functional Tests focus on markers for healthy function, rather than markers for disease as used by the medical establishment. The benefit of using functional tests is that we can identify areas that are functioning out of the normal healthy range long before these imbalances can contribute to disease. Functional testing can also be used to help identify the true, underlying causes of chronic disease. By pinpointing areas of dysfunction and imbalances in the body, strategies can be put in place to provide what is lacking, or remove what is in excess, to promote optimal health and wellness. These tests can be used to help put together a personalized therapeutic programme that is focused completely on your unique needs.

I work with the following established laboratories and may suggest functional tests if I think they will be helpful in assessing your symptoms and blocks to well-being:

Genova Diagnostics
Cambridge Nutritional Sciences
The Doctors Laboratory
BioLab
Cyrex Laboratories
Acumen
Doctors Data

Functional Tests focus on markers for healthy function, rather than markers for disease as used by the medical establishment. The benefit of using functional tests is that we can identify areas that are functioning out of the normal healthy range long before these imbalances can contribute to disease. Functional testing can also be used to help identify the true, underlying causes of chronic disease. By pinpointing areas of dysfunction and imbalances in the body, strategies can be put in place to provide what is lacking, or remove what is in excess, to promote optimal health and wellness. These tests can be used to help put together a personalized therapeutic programme that is focused completely on your unique needs. They can also be used as a way of monitoring your progress.

Functional Tests I regularly recommend include:

• Endocrine System Function (Adrenal Stress Index Test, Thyroid Function, Male and Female Hormonal Panels)
• Urinary Iodine/Halides
• Gastro-intestinal Function (Comprehensive Stool Analysis, Parasitology, Fungal Testing, Leaky Gut / Gut permeability Profiles)
• ATP Profile / Mitochondrial Function, Cell Free DNA, Red Cell B3, and SODase)
• Food & environmental Intolerances and Allergy Testing (3 years and above only)
• Kryptopyrroles / Pyroluria and HPU
• Heavy Metal & chemical toxicity (using Lymphocyte Sensitivity)
• Nutrient Deficiency such as Red Blood Cell Analysis for Mineral deficiencies, vitamin deficiency profile

Booking A Consultation
My primary clinic is in Kendal, Cumbria. Consultations are available on weekdays (all venues) and selected weekday evenings (Kendal only). All of the venues have disabled access.

Additionally I see clients in Carlisle (Cumbria) and Clitheroe (Lancs) clinics held at these locations once monthly. The venues are easily accessible for South Lakes, Cumbria, North Lancashire & Yorkshire, most of North West England and Southern Scotland.

If you are unable to attend in person, consultations can take place via Skype; however it is preferable to meet in person so I can assess you more thoroughly.

Telephone consultations are available for Nutrition / Homeopathy follow-up appointments only although face to face consultations are preferable as they tend to be more effective.

Clinics Venues are all easily accessible from Cumbria, Lancashire, Yorkshire, North West England and Southern Scotland:

Kendal and Carlisle in Cumbria

Clitheroe in Lancashire

Skype appointments also available

Health & Well-Being Days and Talks
A confident speaker, drawing on my experience as an Occupational Health Nurse as well as a Nutritional Therapist and Professional Tutor I am also happy to be involved in corporate well-being days to help organisations promote health and well-being to their workforce.

Additionally I am happy to give talks to groups on any of the therapies as well as general health education topics.