Women's nutrition
Autumn recipe: Gingernut flapjacks
With that autumnal feel in the air and the nights drawing in, there's a natural inclination to seek out foods that are more 'comforting'. This is instinctive; just like the seasons, our bodies follow a cyclical pattern, too. While we thrive on lighter foods during the warmth of the summer months, we have different nutritional needs as the weather cools down.
It's important to honour these natural cycles. There's a good reason you don't feel like eating a cold salad on a wet, windy October day! The key is to treat your body with nutrient-rich foods that feel satisfying, as well as provide the nourishment your cells are craving. This naturally curbs the temptation for the false treats that, while fun at the time, can leave you feeling worse afterwards. 
This delicious flapjack recipe hits the spot on both counts. It's so delicious and comforting, you wouldn't know it's free from gluten, dairy, and refined sugar, plus it's super easy to make for a crowd. The ideal Halloween treat – in the truest sense!
---
Gingernut flapjacks
Serves 12
Ingredients
60g hazelnuts
60g almonds
150g rolled gluten-free oats
50g dried unsweetened cranberries/mulberries/raisins
2 tsp baking powder
1 tsp ground ginger
1 tsp cinnamon
2cm fresh ginger
5 dates
75g coconut oil
3 tbsp maple syrup
Method
Preheat the oven to 160C.
Chop the hazelnuts and almonds, and place into a large bowl with the oats, dried fruit, baking powder, ground ginger, and cinnamon.
Remove the skin from the fresh ginger and grate. Add to the large bowl. Mix until well combined.
Remove the stone from the dates and chop roughly. Add them to the bowl.
In a small pan, gently heat the coconut oil before adding the maple syrup. Mix well and remove from the heat. Combine with the dry ingredients.
Line a 20x20cm baking tin with baking paper. Spoon in the mixture, pressing it into the edges.
Bake for approximately 25–30 minutes until golden brown around the edges.
Leave to cool. Remove from the tin and cut into 12 equal squares. Serve immediately, or pack away ahead of time. They keep in the fridge for a few days.
---
The healthy bit
Ginger and cinnamon are wonderful spices that encourage a feeling of contentment and ignite your inner glow. Ginger literally 'fires up' your metabolism, and helps to soothe digestive issues, such as indigestion, bloating, and nausea.
Cinnamon is nature's blood-sugar balancer. While naturally sweet tasting, it actually improves insulin sensitivity and prevents the blood sugar spikes that lead to cravings, mood swings, skin breakouts, and weight gain. Unstable blood sugar is one of the leading causes of hormone imbalance and can affect everything from your monthly cycle to your mood and mental wellbeing.
The hazelnuts and almonds are tasty sources of plant-based protein that help to offset the naturally occurring sugars and keep your energy levels stable. They are also a rich source of vitamin E, which is great for nourishing parched skin, and contain magnesium, a calming mineral, helpful if you're feeling less emotionally resilient at this time of year.
Similarly, coconut oil has been shown to support mental well-being and enhance mood. It contains medium-chain fatty acids, which your liver uses to create ketones during the process of digestion. Ketones provide your brain with a steady supply of energy without the need for insulin, making coconut oil both a mood-boosting and a blood-sugar-balancing fat.
If that weren't enough, coconut oil has also been shown to support healthy immune function, reduce inflammation, improve memory, promote soft, supple skin, and encourage healthy hormone balance. Due to its high smoke point, it's a good option for baking.
Finally, oats contain beta-glucans, a type of soluble fibre that strengthens immunity and supports healthy digestion. As well as being satisfying, they provide a steady, slow-release source of fuel for your body. This helps you avoid that blood sugar crash that's all too common after traditional sugary snacks, making these flapjacks all treat and no tricks for your health this season!
---
This article was published in Happiful Magazine (Issue 78). You can order print copies online, or read the e-magazine for free on the Happiful app.
Looking for more inspiration? Visit our Recipe hub.
Share this article with a friend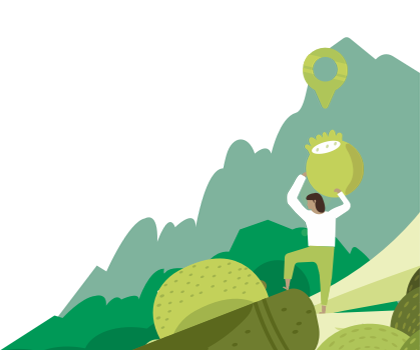 Find a nutritionist dealing with Women's nutrition
All nutrition professionals are verified