Healthy eating
Refreshing recipes for summer
Is there a better way to welcome summer than with a BBQ or gathering in the garden? Even if you prefer to spend your Saturday solo, why not treat yourself to a delightfully refreshing dish?
Watermelon is the perfect summertime treat. Not only is it hydrating and delicious, but watermelon is packed with essential nutrients. Both of these recipes can be made in advance to enjoy as a side dish or weekday lunch, or as a larger group.
---
Watermelon breeze 
Serves 4
Ingredients
1 watermelon (preferably seedless)
1 litre of soda water
Juice of 2 limes
5 mint leaves 
Method
Add the watermelon and lime juice to a blender, blending until smooth. 
Pour into a large jug. If there are a few lumps, pour through a sieve to ensure the juice is as smooth as possible!
Add the mint and stir.
To serve, pour the contents into four cocktail glasses, topping with soda water. 
Garnish with a sprig of mint and a stripy straw. 
---
Watermelon and feta salad
Serves 4
For the salad
1 watermelon (cut into 2cm cubes)
200g strawberries (halved)
1 cucumber (diced)
200g feta cheese, chopped (or vegan alternative)
5 mint leaves (chopped)
For the dressing
½ cup of red wine vinegar
1 tsp of honey
1 tbsp of Extra Virgin olive oil 
Method
Combine red wine vinegar, honey and extra virgin olive oil. Set aside. 
Add the fruits, cucumber and crumbled feta into a large salad bowl.
Add the mint leaves and dressing. Mix everything together.
Season to taste with black pepper and Himalayan pink salt.
Want something extra? Add a slice of toasted sourdough.
---
The healthy bit 
Watermelon provides antioxidants vitamin C, lycopene and carotenoids. In the summer months, it is best to keep your carotenoid levels topped up as they have been demonstrated to have photoprotective effects, which means they can help protect your skin from damage from the sun. Antioxidants also help to neutralise the effects of free radicals in your body. When you have more free radicals than antioxidants, your body is in a state of oxidative stress and inflammation, so if you end up overindulging at a summer party, this nutritious watermelon juice and salad can bring you back into balance! 
Another winning nutrient in watermelon is citrulline, which may help to improve athletic performance and reduce muscle soreness after exertion. Citrulline promotes the production of nitric oxide, which helps to dilate blood vessels, making it easier for your heart to pump blood and oxygen around your body. If you need a refreshing pre or post-workout drink, this watermelon breeze might be worth having handy.
Like watermelon, limes are packed with vitamin C, so you get an extra dose of immune-promoting goodness with this combination in the watermelon breeze. Lime juice has anti-bacterial properties, so if you are out and about over the summer, this will provide that extra immune boost if you come across any bugs while making the most of the sun. 
Strawberries are another supremely nutrient-abundant fruit, and their addition to the diet can support your health in many ways, including your immune system, eye health and boost mood. Especially now they are in season, strawberries can help to keep your skin refreshed and plump due to the high amounts of vitamin C they contain. Vitamin C is essential for collagen production, which is needed to prevent fine lines and premature ageing. 
Feta cheese makes for a deliciously creamy and salty flavour in contrast to the sweetness of the watermelon in this salad. Feta cheese is rich in the mineral phosphorus, which is vital for healthy bones. And as feta cheese is usually made from sheep or goat's milk, it has significantly lower levels of the protein casein which means those with lactose intolerance/sensitivity better tolerate it. 
And then, the cherry on top is the addition of mint, which makes for a flavoursome combination. Mint is a healthy addition to any recipe! Studies have shown that mint can help digestive issues and enhance brain function. However, all the studies were performed on peppermint oil rather than the mint leaves themselves, so you may need a dose of mint oil to reap its full benefits. 
---
This article was originally published in Happiful Magazine (Issue 63). You can order print copies online, or read the e-magazine for free on the Happiful app. 
Share this article with a friend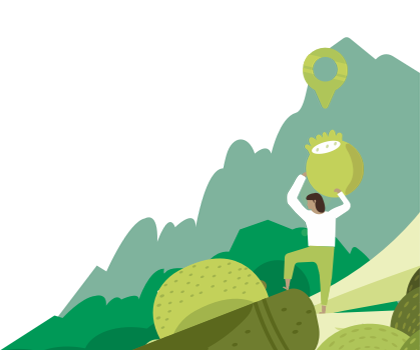 Find a nutritionist dealing with Healthy eating
All nutrition professionals are verified