Healthy eating
Comfort foods: Leek and coconut soup
Soups, stews, and curries are perfect for these colder seasons. And when you're craving something warm, nutritious and comforting, what's better than a big bowl of deliciousness, packed full of vegetables and spices? This recipe is what I'd call a 'stoup' – when a stew meets a soup. It's completely vegan and super easy to make – enjoy!
---
Leek, sweet potato, and chickpea coconut soup
Prep time: 10–15 minutes
Total cooking time: 30 minutes
Serves 3–4
Ingredients
2 tbsp coconut oil
1 tsp mustard seeds
1 large white onion, chopped finely
1 tsp ground turmeric
2 tsp curry powder
1 large leek, chopped finely
3 large garlic cloves, crushed
4cm piece ginger, grated
2 small to medium sweet potatoes, peeled and cut into small chunks
250ml vegetable stock
1 can of chickpeas (BPA free)
1 can of coconut milk (BPA free)
100g frozen peas
100g of baby leaf spinach
4 tbsp soya or coconut yoghurt
Chilli flakes for garnish
A bunch of fresh coriander
Method
First, heat the coconut oil and mustard seeds in a large saucepan until the seeds start to pop. Then add the chopped onion, along with the turmeric and curry powder, and cook for about a minute until translucent.
Add the leek, garlic, ginger, and chopped sweet potato. Sauté for another couple of minutes, stirring frequently.
Add the stock, chickpeas, and coconut milk. Bring to the boil and simmer for around 20 minutes until the potatoes start to soften.
Once the potatoes are softened, add the peas and spinach. Mix and leave for a further 5–10 minutes.
Serve in bowls, topped with yoghurt, chilli flakes, and fresh coriander.
---
The healthy bit
Peas and chickpeas are good sources of protein, while the peas also bring a sweetness to the dish. I always like to make sure my meals contain a source of good quality protein, as this offers a multitude of health benefits. For example, plant-based proteins – such as nuts, seeds, beans, chickpeas, lentils, quinoa, peas, tofu, and tempeh – typically contain fibre, which promotes our good bacteria, and aids digestion. 
Protein is also essential for the growth, repair and maintenance of the body – mainly bones and muscles, while also helping to reduce the risk of cardiovascular disease. Plant-based proteins can also be beneficial for individuals with type-2 diabetes, as the low glycemic load/index contributes to the management of blood sugar levels. Not to mention, a high-protein meal helps keep you feeling fuller for longer!
This recipe is also high in fibre, which is great for keeping you satiated, controlling blood sugar levels, and supporting digestion; regulating bowel movements and preventing constipation.
Prebiotic fibres support digestive health in many ways. They naturally occur in different dietary sources including leeks, potatoes, onions, garlic, chicory, oats, banana, barley, peas, beans, soybeans, wheat, Jerusalem artichokes, and asparagus. Prebiotic fibres help feed the intestinal microbiota, producing vital nutrients for your colon cells. These nutrients include short-chain fatty acids (SCFA), which are then released into the bloodstream, affecting not just the gastrointestinal tract, but other vital organs. Studies have reported a wide range of health benefits of SCFAs, including improvements of blood glucose regulation and blood lipid profiles, reduced body mass, and reduced colon cancer risk.
Cooking tip
The health benefits in garlic are caused by the sulphur compounds released when the garlic is crushed, chopped, or chewed. If you crush the garlic and leave it for 10 minutes before cooking, this helps to activate the powerful – and most commonly known – compound, allicin, increasing the benefits.
---
This article was originally published in Happiful Magazine (Issue 70). You can order print copies online, or read the e-magazine for free on the Happiful app.
Looking for more inspiration? Visit our Recipe hub.
Share this article with a friend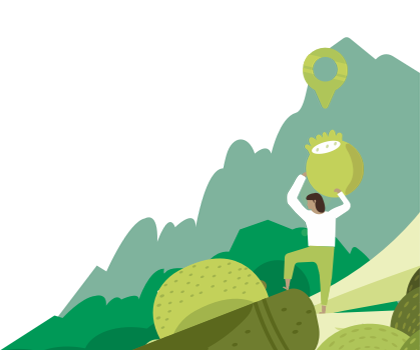 Find a nutritionist dealing with Healthy eating
All nutrition professionals are verified