Healthy eating
A superstar salad recipe
As the sun starts shining, you might find yourself craving a juicy, tasty, protein-packed salad. But eating your greens doesn't need to be dull and repetitive, and I urge you to try this recipe which is perfect for the summer months. Simple, delicious and refreshing – this salad is a must-eat this season!
A superstar salad
Serves 2–3
Ingredients
1 medium sweet potato
2 tsp olive oil
200g tenderstem broccoli
2 pre-cooked mackerel fillets
60g bag rocket, washed
250g pouch of pre-cooked quinoa
80g pomegranate seeds
80g hummus 
For the tahini dressing:
60g tahini
1 tbsp lemon juice
2 tsp Extra Virgin olive oil
1 tbsp maple syrup
Pinch of salt
25–50ml water
For the pickled red onions:
2 red onions
300ml white wine vinegar
45g caster sugar
1 tsp salt
Method
To pickle the onions:
Finely slice the onions.
In a pan, add the white wine vinegar, sugar and salt. Bring to a simmer.
Stir gently, until the sugar and salt have dissolved. Take off the heat and leave to cool.
Once cooled, pour the liquid into a jar. Add the onions and cover.
Leave aside to pickle for at least 2 hours.
For the salad:
Preheat the oven to 180°C.
Cube the sweet potato, and place on a roasting tin. Season with salt and pepper, and drizzle with olive oil.
Bake for 20–25 minutes until cooked. Half the tenderstem broccoli and steam for 5 minutes. Drain and leave to cool with the sweet potato.
With a fork, roughly tear the pre-cooked mackerel into bite-sized pieces.
Make the dressing by whisking together the tahini, lemon juice, olive oil, maple syrup, and salt. Add a splash of water to create a loose consistency.
In a large bowl, add the rocket, quinoa, roasted sweet potato, cooked tenderstem broccoli, mackerel and pomegranate seeds. Mix together.
To serve, spoon the salad onto your plate. Add the pickled red onion and hummus. Enjoy!
---
The healthy bit
This salad isn't only bursting with colour, but nutrients, too. When it comes to plant-based foods, colour represents the different vitamins, minerals, and antioxidants. Sweet potatoes are orange due to vitamin A, which supports healthy skin and vision, while bright green broccoli is plentiful in vitamin K (supporting blood clotting), folate (for healthy red blood cells), and potassium (helping maintain normal blood pressure). Vibrant red pomegranate seeds offer vitamin C, to help with wound healing and healthy skin. 
Packed within these tasty foods are also antioxidants and fibre. Antioxidants help prevent the development of inflammation, heart disease, and certain cancers. They work their magic by reducing damage to body cells caused by free radicals. And fibre is your gut's best friend. In particular, this salad has prebiotic fibres, which feed your gut bacteria to help them thrive and keep your gut happy and in harmony. Besides red onions being rich in prebiotic fibres, their being pickled is also easier on your digestive system.
While hummus provides fibre, it's also high in iron (which, like folate, is great for keeping red blood cells healthy) and plant-based protein. Protein helps build and maintain muscle and keeps you fuller for longer. This superstar summer salad features mackerel for a good source of complete protein, and quinoa for an extra boost. Complete proteins contain all nine essential amino acids, which are the building blocks of protein. Essential amino acids can only be found in our diet, meaning it's crucial that we get them through our food.
As an oily fish, mackerel is rich in heart-friendly omega-3 polyunsaturated fats. Just 140g of oily fish offers you your entire week's worth of omega-3. The best part about getting your omega-3 from oily fish is that it's in a form that can be readily used by your body. 
Finally, this tasty tahini dressing contains polyunsaturated fats, which help lower levels of 'bad' LDL cholesterol and look after your heart. The addition of Extra Virgin olive oil adds monounsaturated fats, which help lower LDL cholesterol levels, too. Made of sesame seeds, tahini is a source of calcium to help keep bones strong. This simple salad dressing really packs a nutritional punch.
---
This article was published in Happiful Magazine (Issue 75). You can order print copies online, or read the e-magazine for free on the Happiful app.
Looking for more inspiration? Visit our Recipe hub.
Share this article with a friend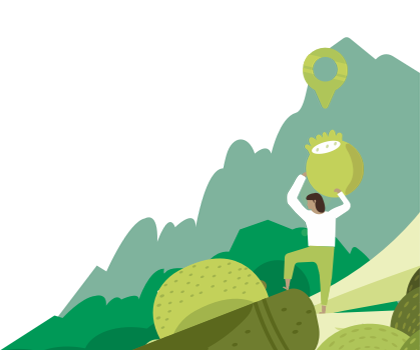 Find a nutritionist dealing with Healthy eating
All nutrition professionals are verified