Tiredness
3 Energy-boosting recipes
Dark days, miserable weather, and feelings of sluggishness. January gives us so many reasons to crave something that could pull us up, and provide energy, joy, and a zest for life. Well, these recipes are colourful, energising, seasonal, and easy to prepare. Not only will they supply the nutrients and energy to get you back into your routine, but also pamper your taste buds with delicious fragrance and yummy textures. 
And they're incredibly versatile. You can eat the mushroom oats for breakfast, but also lunch or dinner, depending on your preference. The roast cauliflower can be enjoyed as a side dish or as a snack, while the hemp patties make a satisfying main, or a convenient, muscle-building and recovery-promoting snack for post-workout. 
---
Savoury mushroom oats
Serves 1
Ingredients
1/2 cup steel-cut oats
2 cloves of garlic, crushed and chopped
200g cremini mushrooms, cut into wedges
1 tsp of tamari or any other soy sauce
2 green onions, thinly sliced
1.5 cups of water
1/4 tsp dried thyme
1 tbsp Extra Virgin olive oil
2 tbsp nutritional yeast (optional)
Salt and pepper, to taste
Method
Add 1 tbsp oil to a medium-sized pot over medium heat.
Add the mushrooms and sauté for 8-10 min, until browned.
Add the garlic and oats, and stir for 30 seconds to toast, making sure nothing burns.
Add the water and tamari. Bring to a boil over high heat.
Once boiling, reduce the heat and simmer for 12-15 mins, until the water has been absorbed and the oats are cooked.
If using, mix in the nutritional yeast just before serving.
Garnish with the sliced green onions and black pepper.
---
Roasted spicy cauliflower
Serves 2-3
Ingredients
1 medium cauliflower, divided into florets
2 large red onions, sliced
1 bell pepper, sliced
1 courgette, sliced
For the coating:
1 heaped tsp tahini
1 heaped tsp peanut butter
3 tbsp chickpea (gram) flour
1 tbsp hot chilly paste or harissa
1.3cm ginger, peeled and chopped
2-3 tbsp soy sauce
Juice of 1 lime
¼ tsp turmeric
¼ tsp black pepper
¼ tsp cumin
¼ tsp curry powder
Water, as necessary
Method
Heat the oven to 200C.
Place the tahini, peanut butter, chickpea flour, chilly paste, soy sauce, spices and lime juice in the blender and pulse, adding a splash of water if necessary (the mixture should be a little denser than a pancake dough).
Transfer into a bowl, add the cauliflower and mix until covered.
Add the chopped vegetables and cauliflower to an oiled (or lined) baking tray and cook for 25-30 minutes, reducing the heat to 180C halfway through.
---
Mushroom and hemp patties
Serves 4-6
Ingredients
4 cups button or white mushrooms, chopped
5 tbsp ground hemp seeds
3 tbsp sunflower seeds
3 tbsp dill, chopped
1 onion, chopped
2 cloves garlic, crushed
2 tsp dried thyme
2 tbsp ground flax seeds
3 tbsp water
4 tbsp nutritional yeast
2-3 tbsp tamari or soy sauce
a pinch of chilli flakes
black pepper, to taste
Method
Mix the ground flax seeds and water in a small bowl. Set aside to thicken.
Mix all the dry ingredients in a bowl.
Add the flax mix and the tamari.
Mix everything and form 10-12 patties. If the mixture seems too dry, add a splash of water. If too runny, add some ground hemp or sunflower seeds.
Line an oven tray with baking paper. Add the patties and cook for 25-30 minutes at 200C. Be sure to flip them after 15 minutes.
---
The healthy bit
These recipes are great for boosting immune health: there are the beta-glucans in the oats and mushrooms, selenium from the mushrooms (and also vitamin D2 if they've been exposed to sunlight!), B vitamins from the oats, mushrooms, nutritional yeast and seeds, and vitamins A, C and E, plus iron, magnesium, and zinc from the various vegetables, oats, seeds, herbs and spices. 
Not to mention, the numerous phytochemicals (such as indole-3 carbinol from the cauliflower, allicin and quercetin in the garlic and onion, thymol, curcumin, gingerol, piperine and many others in the herbs and spices), all play a significant role in immune function. 
All three recipes contribute to good gut health – and we all know how vital the gut is for immune function and overall wellbeing! Cauliflower, onions, garlic, mushrooms, oats, and flaxseeds are particularly rich in soluble fibre, which is the type of fibre that feeds beneficial bacteria in our gut. The phytonutrients in these foods and alpha-linolenic acid in flax seeds and hemp seeds also promote the beneficial strains of gut microorganisms. 
The healthy fats and protein in hemp, tahini, peanut butter and linseeds will boost your energy, helping to keep your blood sugars stable, and thus, your energy levels lasting longer. Fats also improve the absorption of fat-soluble vitamins and phytonutrients. 
Of course, these fats are part of the reason why these foods taste so good! These versatile and wholesome dishes support our health and energy not only because of their macro, micro, and phytonutrients, but because they are warming, colourful and delicious. If the food makes us truly happy it cannot but make us healthier!


---
This article was originally published in Happiful Magazine (Issue 69). You can order print copies online, or read the e-magazine for free on the Happiful app. 
Looking for more inspiration? Visit our Recipe hub.
Share this article with a friend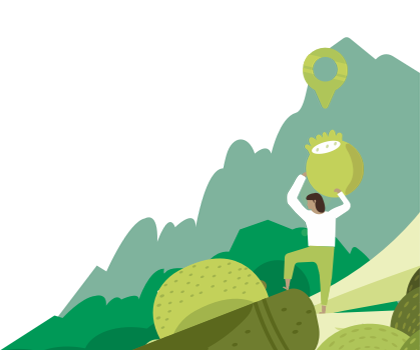 Find a nutritionist dealing with Tiredness
All nutrition professionals are verified