Healthy eating
Summertime salads
If the thought of a salad for lunch sends you to immediately seek out the biscuits, these protein packed spring dishes are sure to switch up your routine. 
The trick is to be brave and explore different textures and flavours that might traditionally have been left outside of the salad bowl. Experiment with mixing fruits and cupboard essentials, with some lean protein and healthy fats to round off the dish. Tangerine in a salad may sound strange, but actually the tangy citrus taste is just the trick to deliver a burst of flavour and freshness. 
If you're anything like me, when the sun is shining I crave fresh, cold lunches. But in the past they've run the risk of lacking enough nutrients and sustenance to fill me up. Well, not anymore as we bring you three salads to put a spring in your step.
Salmon Protein Power Salad 
Serves 2
Ingredients
1 fillet of salmon, grilled

Salt and pepper

1 lemon, drizzle

2 eggs 

2 spring onions, diced

210g edamame beans 

75g spinach
Method 
Lay the salmon skin-side down on a piece of kitchen foil (foil must be big enough to cover the entire fillet), season with salt and pepper, and a drizzle of lemon juice. 

Cover with foil and place under the grill for approximately 8 minutes.

While the salmon is cooking, place the eggs in a pan of cold water, and bring to the boil.

Simmer eggs for 7 minutes, then plunge into cold water and peel. Cut each egg in half.

Place the spinach, diced spring onion, and edamame beans in a bowl, and mix with hands.

Remove the salmon, and serve on top of leaves with the sliced egg. 
Quinoa and Kale Citrus Salad
Serves 2
Ingredients
1 cup of cooked tricolour quinoa

Pinch of salt

100g of kale, chopped

Olive oil, drizzle

Handful of pomegranate seeds 

Handful of walnuts, chopped

1 tangerine, peeled 
Method
Using a sieve, rinse the quinoa under cold water for 30 seconds. This helps to reduce it's organic, bitter taste.

Tip the quinoa into a pan, and add double the amount of cold water, with a little salt.

Bring to boil over a medium heat, then reduce to simmer for 10 minutes or until liquid is absorbed.

Fluff the quinoa with a fork. Set aside.

In a separate bowl, massage the raw kale leaves with olive oil.

Add the pomegranate seeds and chopped walnuts to the bowl, and mix with hands.

Add the warm quinoa (or wait until it has cooled) mixing gently, and serve with tangerine slices.
Chickpea and Chicken Rocket Salad
Serves 2
Ingredients
400g chickpeas, rinsed and drained

Salt and pepper

1 tbsp olive oil, for grilling

1 lemon, for juice

200g grilled chicken, sliced

75g rocket

Handful of cherry tomatoes, sliced

1 avocado, sliced

Avocado oil, drizzle
Method
Spread the rinsed chickpeas on some kitchen towel, and pat dry.

Add the chickpeas to a baking tray and season with salt, pepper and olive oil. Place under the grill for approximately 25 minutes.

Place the olive oil, lemon juice and chicken fillet in a sandwich bag, and turn chicken over to marinate.

Place under a medium heat for approx 7 minutes. Turn chicken and repeat.

Place the rocket and sliced tomatoes in a bowl and gently mix.

Remove the chickpeas from the grill, and add to the rocket.

Place the grilled chicken on the rocket and chickpea bed, and serve with sliced avocado. Drizzle over some avocado oil if you like as well. Delicious.
---
Nutritional therapist and wellness coach, Sonal Shah says…
All three salads are gluten-free and provide protein, healthy fats, and fibre to keep you fuller for longer, and are bursting with goodness! The quinoa in the 'Quinoa and Kale Citrus Salad' contains nine essential amino acids, and just one cup of cooked quinoa contains 8g of protein. Plus, it's high in fibre. 
The 'Salmon Protein Power Salad' is packed with protein as the edamame beans – also known as soya beans – provide approximately 23g of protein. One salmon fillet contains 22g, and two boiled eggs contain 12g of protein. The 'Chickpea and Chicken Rocket Salad' has 7g of protein from the can of chickpeas and 54g from 200g of grilled chicken. 
The addition of walnuts, salmon, avocados and olive oil to these salads provide essential omega fats including omega 3s, which also help vitamins A and K from the kale, spinach and rocket, to absorb into the body. These super greens contain vitamin C, folic acid and iron, helping to sustain energy, vision, skin, and immune system health. 
This article was originally published in the June 2020 issue of Happiful Magazine. To purchase your copy, head to shop.happiful.com.
Share this article with a friend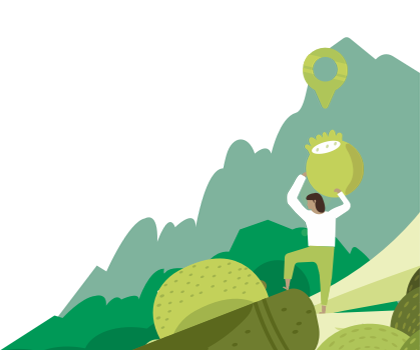 Find a nutritionist dealing with Healthy eating
All nutrition professionals are verified