Weight management
Barbecues; you could end up eating a sizzling 3000 calories!
When the sun is out there is no better way to enjoy the long summer days than a barbecue. But be aware that the temptation to pile your plate high with burgers, sausages and coleslaw comes at a heavy price.
The average barbecue eater could consume more than 3,000 calories in a single sitting – that's more than 1½ times what a women would eat in a day. The average barbecue helping consists of two sausages, one-and-a-half burgers, two chicken drumsticks, one-and-a-half meat skewers and a small piece of fish, according to a study carried out by Boots and the Tony Ferguson Weight-loss Programme. 
But it doesn't end there; what about all the side dishes to try like pasta salad, jacket potatoes, a mixed salad, corn on the cob and a variety of dips, chutneys and of course mountains of mayonnaise?
The savoury is then followed by the sweet course – plenty of ice cream, fresh fruit perhaps, cakes and cheesecakes.
The high calorie blow out doesn't even include the beers, wines, soft drinks and Pimms that we often over indulge in at the BBQ!
And the bad news doesn't end there, as many of us eat over twice the recommended daily salt allowance - over 12g.
Don't despair; there is still a way to enjoy a family barbecue without breaking the calorie bank. Simply cut down on the meat and replace it with some healthy fish and lots of fresh, colourful salad. Or you could opt for a vegetarian option of grilled herby Portobello mushrooms wrapped in a flatbread.
Try these two delicious recipes and you will not only be saving yourself calories but increasing your omega 3 fatty acids, antioxidants, vitamins, fibre and boosting you immune system.
What's not to love!
Salmon kebabs - serves 2, 213 calories per serving (without the salad)
200g salmon fillets, without skin 

1 courgette

½ tsp soy sauce

½ tsp honey

splash of rice vinegar

pinch of ground ginger

¼ clove garlic, minced

pinch of freshly ground black pepper

1 lemon, cut into 4 wedges

4 skewers – soaked in water
Cube the salmon fillets into bite sized pieces, cut the courgette into the same size and thread alternately onto soaked wooden skewers. Place in a shallow dish.
In a bowl, whisk together the soy sauce, honey, vinegar, ginger, garlic and pepper. Pour over skewers, turning to coat. Let stand at room temperature for 30 minutes. When finished marinating, transfer marinade to a small saucepan, and simmer for several minutes.
Preheat barbecue for medium-high heat.
Lightly oil cooking grate. Thread a lemon wedge onto the end of each skewer. Cook skewers 4 minutes, brushing often with marinade and turning regularly, until fish flakes easily with a fork.
Serve 2 skewers each with plenty of salad leaves dressed with lemon juice.
Herby Mushroom Burger - serves 2, 265 calories per serving
3 large field mushrooms

2 tsp olive oil

Salt and pepper

1 small red onion, finely chopped

1 large garlic cloves, crushed

Handful of fresh mint leaves (20g), chopped

Handful of parsley (20g), chopped

100g baby spinach

1 red chilli, deseeded and finely chopped

Grated zest of ½ lemon

2 flatbreads and

Low fat Quark - beaten with a spoon to loosen, add a dash of milk or water if necessary to thin it down
Light/preheat the barbecue or grill. Brush the field mushrooms all over with 1 tsp of the olive oil, then season with salt and pepper.
Heat the remaining tsp of oil in a frying pan over a low heat and gently fry the onions and garlic for 5 minutes until softened. Add the chopped herbs then transfer to a bowl.
Put the spinach in a colander, pour over boiling water from the kettle to wilt, squeeze dry in a tea towel, then roughly chop.
Stir the spinach, chilli and lemon zest into the onion mixture and season to taste.
Barbecue the mushrooms for 5 minutes, flat-side up, place to one side, turn over and divide the filling between them. Place back on a medium-hot part of the barbecue for a further 10 minutes until cooked through and the filling is hot.
Toast the flatbreads on the barbecue for a minute, then use to wrap 1 ½ mushrooms each, and top with a dollop of Quark and serve with plenty of salad.
Share this article with a friend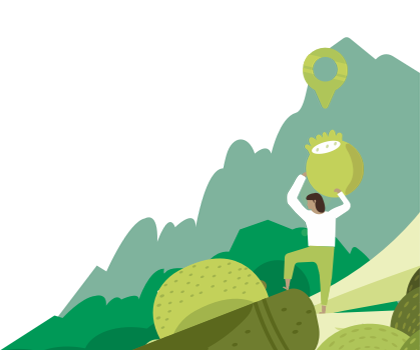 Find a nutritionist dealing with Weight management
All nutrition professionals are verified