Vegetarian and vegan diets
3 plant-based dinners
If you've exhausted your supply of plant-based recipes, we've got just the thing for you with three brand new ideas to add to your collection. They are easy to make and require just a few store-cupboard ingredients. They are hearty, warming recipes that are packed with flavour, and we guarantee you'll be coming back for more!
In addition, these recipes are excellent for batch-cooking. By using a slightly larger pan, you can make a double batch of each, keeping half in the freezer for when you need something quick yet nutritious. When you've had a busy day, having a selection of ready-made nourishing dishes to choose from makes being healthy that much easier!
Everyday Red Lentil Dhal
Serves 6
Ingredients
1 tbsp coconut oil
1 large onion, chopped
1 carrot, grated
3 cloves garlic, crushed
2 tsp cumin seeds
2 tsp black mustard seeds
1 tbsp turmeric
250g split red lentils
350ml water
1 tin whole coconut milk
1 tin chopped tomatoes
2 tsp grated ginger
Salt and pepper, to season
Optional garnish: Chopped coriander and flaked almonds
Method
In a large pan, heat the coconut oil and gently sauté the onions until golden.
Add the carrot, garlic, and whole spices. Stir and sauté on a gentle heat until fragrant.
Add the turmeric and stir to cover well, allowing to cook through for 1 min.
Add in the lentils and stir to combine.
Add the water, coconut milk, chopped tomatoes and ginger. Stir. Season to taste.
Bring to a simmer and leave on a gentle heat for 30 mins until the lentils are cooked.
Serve with brown rice or quinoa.
Mediterranean Roasted Vegetables with Spicy Chickpeas
Serves 4
Ingredients
1 butternut squash, peeled and chopped into bite-size pieces
1 red onion, sliced 
5 cloves garlic, peeled and left whole
1 courgette, sliced
1 red pepper, sliced
1 tbsp capers
2 tbsp sun-dried tomatoes
1 tbsp Herbes de Provence
Extra virgin olive oil
1 tin chickpeas, drained
2 tbsp harissa paste
1 bag spinach
Salt and pepper, to season
Optional: Chopped parsley and toasted pine nuts to garnish
Method
Preheat the oven to 200C, 180 fan, 390F.
Add the vegetables to a large roasting tin. Sprinkle with dried herbs and a pinch of salt and pepper. Drizzle well with olive oil. Toss thoroughly, and bake for 30 minutes.
While the veggies are cooking, add the chickpeas to a bowl. Stir through the harissa paste with some olive oil. 
When the veg is cooked, add the chickpeas and spinach to the tray. Stir thoroughly, and place back in the oven for 5 minutes.
Serve with gluten-free flatbread, garnished with chopped parsley and pine nuts.
Three Bean Chilli
Serves 4
Ingredients
2 onions, chopped
1 tbsp olive oil
2 cloves garlic, crushed
1 stick celery, chopped
3 carrots, chopped
1 large courgette, chopped
2 tsp ground cumin
1 tbsp sweet smoked paprika
1 tsp chilli powder 
2 tins of chopped tomatoes
1 tin kidney beans, drained
1 tin black beans, drained
1 tin aduki beans, drained
1 tbsp tomato puree
Salt and pepper, to season
Optional: Coconut yoghurt to serve
Method
Heat the oil in a large heavy-based pan. Add the onions and sauté until soft.
Add the chopped carrots, courgette, and celery. Stir and leave to soften.
Add the dried spices and crushed garlic, stir to combine well and heat until fragrant.
Add the chopped tomatoes, beans and tomato puree, and mix well.
Season to taste and then let simmer gently for 25-30 minutes. Stirring regularly.
Serve with corn tortillas or wholegrain rice, plus a swirl of coconut yoghurt.
---
The healthy bit
Pulses are an excellent source of fibre, in fact, just one cup of cooked pulses can give us more than half the amount we need in a day! Pulses contain both soluble and insoluble fibre and both are necessary for good health.
Research shows that soluble fibre can help with managing weight, blood sugar levels, and cholesterol. Insoluble fibre, on the other hand, assists with digestion and regularity. Plus, pulses also make a superb carrier for gorgeous warming flavours such as the turmeric, paprika, and chilli used in these recipes, which make them very moreish!
And don't forget - we're not just eating for us. Research tells us that having 20-40 different plant foods per week can help increase the diversity of our microbiomes, that is the bugs in our gut that keep us healthy. And this doesn't always have to be in the form of fruits and vegetables. There are many small ways in which you can add plant foods to your day – think herbs and spices, nuts and seeds. All the small garnishes suggested not only add flavour and interest but may also be benefiting our health at the same time!
Share this article with a friend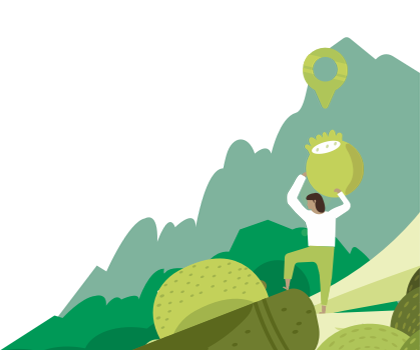 Find a nutritionist dealing with Vegetarian and vegan diets
All nutrition professionals are verified