Spicy flatbread with assorted dips
Food is often at the centre of social gatherings, and bringing your own dish to a get-together is not just a fun way to get everyone involved, but a big part of so many cultures. This recipe is easy to prepare, flavoursome, and makes a great option for a bring-a-board night. What's more, you will be sharing its nutrient-rich health benefits with your guests!
Serves 4
Prep time: 5 minutes
Cooking time: 25 minutes 
Ingredients
For the flatbread
150g buckwheat flour
3 tbsp Greek yoghurt
1 tsp Extra virgin olive oil
Salt and pepper
1 tsp garam masala
½ tsp baking powder (optional)
For the assorted dips
2 avocados
1 fresh lime
Extra virgin olive oil
2–3 cloves of garlic
Fresh parsley
1 can of chickpeas (400g)
Smoked paprika
1 pack of smoked mackerel
Fresh coriander
6 baby plum tomatoes
1 medium-pointed red pepper
2 tsp tomato puree
1 tbsp Greek yoghurt
---
Method
For the flatbread
Combine the flatbread ingredients to form a dough.
Separate into 8 balls and roll each one very thin, roughly 6" in diameter.
On medium heat, add a little olive oil to a frying pan.
Cook each flatbread, turning on both sides. Spray more olive oil if needed.
Leave aside to cool. 
When ready to serve, cut each flatbread into quarters.
For the guacamole
In a bowl, mash the flesh of 2 avocados, a squeeze of lime, 1 tbsp extra virgin olive oil, salt and pepper, and crushed garlic.
Mash until smooth.
Garnish with a drizzle of olive oil, parsley and finely chopped lime peel.
For the hummus
Blend together a drained can of chickpeas, 5 tbsp extra virgin olive oil, 5 tbsp water, salt and pepper, a squeeze of lime and 1 garlic clove, until smooth. 
Garnish with a drizzle of olive oil, smoked paprika and parsley.
For the smoked mackerel dip
Add the smoked mackerel, fresh coriander, tomatoes, red pepper, tomato puree, 1 garlic clove, a squeeze of lime, 1 tbsp yoghurt and 3 tbsp Extra virgin olive oil to a blender.
Blend until it forms a smooth creamy dip. 
Garnish with some finely chopped coriander.
Tips: You can include either green or black olives to any of the dips mix, or a few anchovies to add depth of flavour. You could even use anchovy stuffed olives! 
For the smoked mackerel dip, another idea is to use cooked beetroot instead of tomato and pepper to create a deep purple-coloured dip instead of red.
---
The healthy bit
Buckwheat is gluten-free and, therefore, using buckwheat flour in the flatbread means it is suitable for those with coeliac disease, or who are gluten intolerant. 
Greek yoghurt can support our bone health with its calcium, selenium and phosphorus. Greek yoghurt also has a higher protein content than regular yoghurt. Opting for plain, natural, organic, and full-fat is better, as it means it has not been processed or sweetened with flavours. You could also use one that contains live cultures, which will provide probiotic-beneficial bacteria to support gut health.
Avocados are not only a great source of healthy fats, but also rich in vitamins C and E, giving us antioxidants that help with immune function, as well as heart health. Plus, avocados and chickpeas both have a high fibre content, which supports our gut function and healthy bowel motility, as well as keeps us fuller for longer. Fibre also slows carbohydrate absorption, and can therefore aid with blood glucose regulation.
Mackerel is an oily fish that provides us with the essential omega-3 fatty acids our bodies cannot make by themselves. You can also get an extra boost of omega-3 if including anchovies. Omega 3 is anti-inflammatory and helps with our heart function, brain function and the health of our cell membranes.
Finally, garlic can be added to each of the three dips, according to your preference and tolerance. I am always in favour of garlic due to its many medicinal properties: it is antiviral and can boost your immune defence when you have an infection. Studies have shown that a high garlic intake can help lower high blood pressure, and reduce the risk of cardiovascular diseases. Garlic also has antioxidant properties and has been linked to helping with the ageing process and preventing the risk of dementia. 
---
This article was published in Happiful Magazine (Issue 73). You can order print copies online, or read the e-magazine for free on the Happiful app.
Looking for more inspiration? Visit our Recipe hub.
Share this article with a friend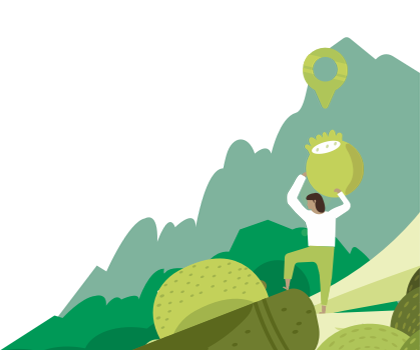 Find the right nutritionist for you
All nutrition professionals are verified