Favourite festive recipes
The holiday season is often abundant with chocolate, traditional treats, and plenty of sugary snacks. Personally, I find the sugar headaches kick in around mid-December, and all thoughts of a balanced meal go out the window. But not this year – it's possible to enjoy those festive flavours without sacrificing your nutrition.
For me, the holidays wouldn't be complete without spicy mulled wine warming on the stove, and homemade gingerbread cooling on the side. So this spicy gingerbread oat cookie recipe is perfect for satisfying your sweet tooth and setting the mood for the festivities.
And some will say Christmas isn't complete without a mince pie, while others loathe the traditional treats (who, I don't know!). So we've whipped up an alternative recipe to cater for all dietary needs, with a unique blend of rich fruit and classic ingredients. 
Turn up the Bublé, and enjoy filling your home with the sweet scent of Christmas.
Vegan mince pies
Makes 12
Ingredients 
25g vegan butter or nut butter

150g vegan fruit-based mincemeat (apple or pears)

100g dates, chopped

100g figs, chopped

2 tsp cornflour

6 sheets vegan/dairy-free filo pastry 
Optional
200ml coconut whipping cream, chilled overnight in the fridge 
Method 
Preheat oven to 200°C. Take the coconut cream out of the fridge and set aside for 10 minutes. Grease a 12-cup bun/muffin tin with the butter.

In a bowl, combine the mincemeat with the figs, dates and cornflower, stirring until the cornflour has dissolved.

Melt a teaspoon of butter. Place a sheet of pastry on the worktop and brush with the melted butter. Lay another sheet on top and brush again. Repeat once more. Cut the layered pastry into 12 circles using a cutter and lay each piece into a cup of the tin. Press gently into place.

Spoon the mincemeat mixture equally into the pastry-lined cups.

Brush the remaining pastry sheets and gently tear each sheet into roughly six pieces. Crinkle the pieces of pastry on top of each mince pie. 

Bake for 20 minutes, or until golden-brown and crisp. 

If using, make the whipping cream. Discard the coconut water and place the hardened cream in a mixing bowl. Whisk for about 30 seconds, until smooth and creamy. 

Remove the pies from the oven and allow to cool on a wire rack. Once cooled, place a dollop of coconut cream on top and serve with a warming cup of mulled wine!
Spicy gingerbread oat cookies
Makes 20
Ingredients
100g wholewheat pastry flour, plus extra for dusting
1 tsp baking soda
2 tsp ground ginger
1 tsp ground cinnamon
½ tsp ground cloves
A pinch of salt 
1 egg
100g nut butter (hazelnut or walnut), melted
100g porridge oats
50g walnuts, chopped
Method 
Preheat oven to 180°C and line two baking trays with parchment.
In a bowl, combine the flour, baking soda, spices and salt and set aside.
In a separate bowl, whisk together the egg and nut butter. Once mixed, slowly fold in the oats and chopped walnuts.
Combine both bowls and mix until a dough-like consistency forms. Tip the dough out and knead briefly before placing in the fridge covered, for 15 minutes.
Lightly dust the worktop with flour and roll out the dough to 1cm in thickness. Cut the dough with a cookie cutter and place on a baking tray, leaving small gaps between the cookies.
Bake for 10–12 minutes or until lightly golden.
Remove from the oven and leave on the tray for 10 minutes, then transfer to the cooling rack. When cooled, decorate if using. Enjoy!
Our expert Anna-Maria says…
"If you're vegetarian, vegan or you follow a plant-based diet, this mince pie recipe is definitely suitable for you. Even if you don't follow any of these diets, you can choose to make these as a healthier version of your Christmas treats. 
"This recipe doesn't contain any processed sugars (only natural sugars from the fruits) and has a variety of different vitamins and minerals. It contains a good source of vitamin E, an antioxidant which fights free radicals and protects our cells from oxidative stress. Figs contain fibre, a nutrient which is important to have in our diets daily – aim for 25 to 30g per day – as fibre brings satiation and improves digestion.
"The spicy gingerbread oat cookies are a nutrient-dense, dairy-free alternative if you want a nutritious dessert – and are suitable for lactose-intolerant people.
They contain B complex, vitamin E, potassium, calcium, phosphorus, magnesium, iron, zinc and selenium, which are all necessary nutrients for the body's immunity and correct functioning.
"The recipe contains 'good' fats – omega 3 and 6 fatty acids – which help in the reduction of LDL (bad cholesterol), and the increase of HDL (good cholesterol). It's important to choose healthier dessert options even during the holiday period, as this will help you to not overdo it. Focus on foods which are lower in saturated fats and sugars and which contain a good amount of fibre and protein."
Find out more about nutritional therapist Anna-Maria Volanaki, and if you give these recipes a go, do tag us on social media, we'd love to see your bakes!
Share this article with a friend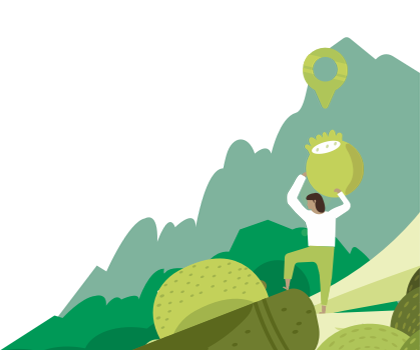 Find the right nutritionist for you
All nutrition professionals are verified