Healthy fish and chips
The days are turning darker and colder and, typically, that means we want not just delicious food, but something that is comforting and warming. Come Friday night, after a long week at work, or a Saturday night after a few too many drinks, ordering a takeaway is the perfect option.
But what if we said you could create your own version of a takeaway that is simple to make, easy to follow and just as delicious? Don't get me wrong, sometimes nothing beats a takeaway curry or pizza, but there are times when you crave the food, yet want to keep it within your dietary and financial needs. While fish and chips isn't the most expensive takeaway on the market, it's one that you can recreate at home relatively quickly, and it's suitable for all the family.
Take a little bit more time making the components and you've got a satisfying, balanced meal which tastes great and is perfect for any day of the week.
The good thing about this recipe is that it really does feel quite special, despite taking less than an hour to make. The hasselbacks are my favourite part – sad but true – they completely transform the humble potato into something you would serve the Gods. Crispy but fluffy, oh yes.
Below you'll find the recipe for our take on the classic fish and chips. Oh and don't forget – a little imagination goes a long way. If you want to make a change to suit your needs or tastes, then do it. Sometimes taking a risk is what makes the recipe your own, and one you'll return to time and time again.
Fish and chips with tartare sauce
Serves 2
Crumbed fish
2 salmon fillets (or fish of choice)

1 tbsp olive oil

1 lemon, zested

Juice of half a lemon

40g couscous
Hasselback potatoes
160g new potatoes

Salt and pepper

Olive oil
Tartare sauce
1 tbsp chopped capers

2 heaped tbsp Greek yoghurt

Juice of half a lemon

Chopped parsley
Method
Preheat oven to 200°C, gas mark 6, 180°C fan.
For the potatoes…
One potato at a time, slowly cut into thin slices almost right through but stopping about one-third of the way up. The trick with Hasselback is that you want them sliced thin enough to crisp and fan out when baking, but still fluffy and attached at the bottom. Once cut, add the potatoes to a baking tin and drizzle with olive oil. Make sure all potatoes are covered and facing slice-up. Season well with salt and pepper. Cook for 40 minutes.
For the fish…
In a bowl, mix the couscous with the lemon juice, zest, olive oil and 3 tbsp of boiling water. Cover and leave to absorb for 5 minutes. Season to taste. Press the tops and sides of the salmon fillets into the couscous. Place on a baking tray and bake for 20 minutes.
For the tartare sauce…
In a small bowl, mix the capers, yoghurt, parsley and lemon juice.
Any sides? Of course, mushy peas are a given when it comes to a tasty fish and chip dinner. But if you want something lighter, try regular peas mixed with salt, pepper and a sprinkling of chilli flakes. Alternatively, bake some asparagus or broccoli with the fish – delicious.
Our expert nutritional therapist Susan Hart says…
This is a well-balanced dish containing fats, carbs and protein. The fat is courtesy of the salmon, an oily fish high in omega 3 fatty acids; essential for healthy skin, nervous system and lifting your mood by increasing your serotonin levels. It's also a good protein source, vital for muscle building and repair.
To make this dish suitable for vegetarians, substitute the salmon for calcium and protein-rich halloumi. For vegans, use firm tofu (an excellent source of low fat, low cholesterol protein that is also high in phytoestrogens – beneficial for women going through the menopause. Just wrap ½ a sheet of Nori seaweed around the tofu before coating.
To increase the protein, fibre and calcium content even more, you could swap the couscous and use quinoa instead. It requires more cooking (15 – 20 minutes), but use the same flavourings.
If you're vegan, the tartare sauce can be adapted by using a thick plain vegan yoghurt. If you are vegetarian, consider using a Skyr-type yoghurt for higher protein content.
The potatoes are a good source of carbohydrate, essential for energy, and baking them reduces the need for added fat.
Make sure you have at least one portion of vegetables with your meal. An 80g portion of peas will add additional fibre, great for fullness and good gut health, vitamins (especially vitamin C, needed for healthy cells like skin and hair) and protein.
Find out more about Susan.
---
This recipe was originally published in Happiful magazine. To purchase your copy, head to shop.happiful.com.
Share this article with a friend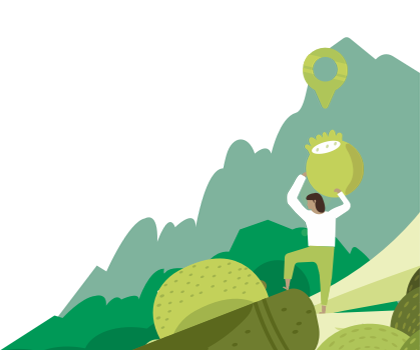 Find the right nutritionist for you
All nutrition professionals are verified