Healthy eating
Thoughtful foods: 3 recipes to show you care
For many of us, food is a way to socialise and show our love for each other. Whether you go big and have a passion for hosting, or you prefer the smaller acts - buying your friend a coffee or their favourite snack after a bad day, ordering a fresh juice to a loved one's door when they're sick - simply gifting a person something because you can, well, it can have a huge impact on how they feel.
And what's more special than when the edible gift is homemade? Here are three recipes that are quick and simple to make, taste delicious and can be packaged up and gifted to a friend (or enjoyed together over a cup of tea).
---
Superfood cookies
Ingredients
80g rolled oats 
70g desiccated coconut
2 tbsp nut butter
½ tsp cinnamon
1 tbsp honey 
100ml nut milk (of your choice)
1 tsp apple cider vinegar
¼ tsp baking soda
For decoration, add a handful of dark chocolate chips (85%) and goji berries. 
Method
Preheat the oven to 170 degrees, gas mark 5.
Line a baking tray with parchment paper.
Place the oats, desiccated coconut, nut butter, cinnamon, honey, vinegar and baking soda in a blender. Add 50ml of nut milk, gradually adding more if needed.
Blend until a thick but smooth consistency (hummus-like, not a smoothie).
Spoon small piles of batter on the tray until you have none left (you may need to use two trays, or bake in batches!).
Place a couple of chocolate chips and goji berries on each cookie
Bake for 10-12mins.
Set aside to allow to cool.
---
Red lentil pasta salad
Serves 1
Ingredients
100g red lentil pasta
50g feta cheese 
2 tbsp black olives
3 mushrooms 
4 broccoli florets
¼ tsp salt 
¼ tsp chilli flakes
½ clove of garlic, minced
Knob of butter
Drizzle of extra virgin olive oil
Juice of half a lemon
Method
Bring a pan of lightly salted water to boil.
When boiling, add the pasta.
While pasta is cooking, crumble the feta and slice the olives.
In a separate pan, add the butter. Once melted, add the mushrooms, salt and chilli flakes. Sauté for 5 minutes.
Add the broccoli with the garlic, and cook for a further 3-4 minutes.
Drain the pasta, and rinse under cold water to cool.
In a bowl of Tupperware, add the mushrooms, broccoli, olives and feta.
Drizzle with olive oil and a squeeze of lemon. 
---
Homemade pick 'n' mix
Serves 1
Ingredients
A handful of each:
Brazil nuts
walnuts
pine nuts
dried mango
dried figs
Method
Repurpose a jar (don't forget the lid) to hold the pick 'n' mix.
Simply clean and dry the jar, and adorn the outside with whatever you have available; stickers, ribbon, or even doodle little patterns with a Sharpie.
When you're happy, add the ingredients. Your pick 'n' mix is ready to go!
---
The healthy bit 
The cookies are made with love, care, and best of all, without any additional nasties that the shop-bought cookies contain - no preservatives, no refined sugar and no fructose syrup; all the things that can have a negative impact on our physical and mental wellbeing. This recipe contains enough fibre and blood sugar-balancing compounds (cinnamon, nut butter, apple cider vinegar, goji berries and dark chocolate) to negate any possible blood sugar spikes later on. 
Red lentil pasta is a wonderful alternative to regular pasta due to its higher protein content and high fibre content (which causes a much-reduced blood sugar spike). Reducing spikes in blood sugar is a key aspect of long-term health, while feta and olive oil contribute not only that delicious Mediterranean flavour but essential fats that are key to our body's overall health. Mushrooms, broccoli, chilli and garlic are great for the liver and the gut, as well as helping boost the function of our immune system. 
The dressing is light and zesty to keep the salad fresh and full of beautiful benefits for the skin, liver, gut and immune system. All that without a salad leaf in sight! 
Finally, this homemade pick 'n 'mix just shows that you care about the person and their health. This selection is great for brain, gut and mood health. It is a full package of nutrients needed to support these!
---
This article was originally published in Happiful Magazine (Issue 66). You can order print copies online, or read the e-magazine for free on the Happiful app. 
Looking for more inspiration? Check out our recipe hub.
Share this article with a friend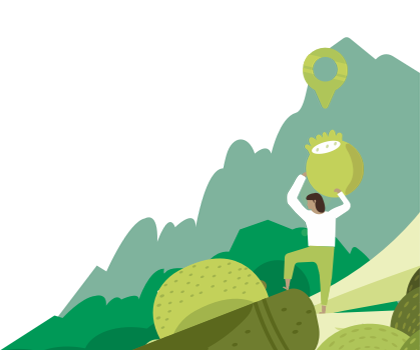 Find a nutritionist dealing with Healthy eating
All nutrition professionals are verified