Family favourite recipes
Reminiscing about childhood family dinners? Want to recreate your favourite family feasts? These two delicious dishes from nutritionist Rania Salman are packed with veggies and key nutrients, plus a dash of nostalgia!
High in taste, but low in salt and unhealthy fats, my two classic dishes are incredibly versatile and can be adapted to suit your kitchen table, as it's easy to substitute a different vegetable but still end up with the same flavours and health benefits. So have a go, and make some new memories around the stove.
Vegetable lasagne
Serves: 8. Prep time: 20 minutes. Cook time: 1.5 hours
Ingredients
1 medium yellow pepper, 1 medium red pepper, ½ medium green pepper, chopped
1 very large courgette, chopped
1 medium aubergine, chopped
Handful of cherry tomatoes, halved
1 Italian sundried tomato mix
Olive oil
1 medium onion, diced
2 garlic cloves, minced
Tomato passata with basil
Pinch of oregano
Grind of black and white pepper
15 wholegrain lasagne sheets
100g butter/spread alternative
80g flour
500ml semi-skimmed/skimmed milk
220g cheddar cheese, grated
Method
Preheat oven to gas mark 6/225°C.
In an oven dish, mix the chopped veg, Italian sundried tomato mix, and salt and pepper with olive oil, to coat the veg. Cook in the oven for an hour, or until soft.
Whilst the vegetables are roasting, sauté the onion and garlic with olive oil until the onion is translucent. Add the tomato passata, pepper, oregano, and salt to taste.
Boil the lasagne sheets for 7 minutes and sieve to drain.
Make the Béchamel sauce by melting butter in a saucepan. Add the flour and milk slowly, whisking until the mixture thickens. Add cheese and pepper to taste.
Once vegetables have cooked, remove from oven and mix in the tomato passata to make the veggie lasagne base.
In another roasting dish, layer the lasagne as follows: lasagne sheets, Béchamel sauce, vegetables. Repeat until you get a few layers. Add remaining grated cheese on top.
Cook for 30 minutes at gas mark 5/215°C, or until cheese has browned.
Enjoy with a side salad!
The healthy bit
This lasagne is loaded with vegetables, meaning there's lots of fibre and good plant chemicals that our bodies love and need. Switching to whole grain lasagne sheets is a great idea, as emerging research shows the importance of fibre, so trying to get it in wherever you can is important for optimal health – most people don't meet the government's target of 30g fibre per day.
Remember, when using margarine, opt for one that doesn't include trans fats – look out for 'hydrogenated' or 'partially hydrogenated oil', and avoid.
Chicken curry with cumin rice
Serves 6. Prep time: 20 minutes. Cook time: 45 minutes
Ingredients
Rapeseed oil
155g onion, diced
2 garlic cloves, minced
1-3 bird's eye chilli, diced (optional)
¼ tsp turmeric
2 tsp curry powder (mild-medium, as per taste)
2 tsp garam masala powder
360g raw chicken breast, cubed
Pinch of salt
80g yellow pepper, 80g red pepper, 80g green pepper, diced
90g carrot, diced
200g potato, diced
1 medium tomato, diced
1 ½ tbsp tomato puree
30g coriander, chopped
Handful of peas
3g cumin seeds
300g basmati rice
Method
In a pan, heat a tablespoon of oil and add the onion and minced garlic. Add the bird's eye chilli (if using) and sauté until the onion is translucent.
Add ¼ tsp turmeric, ¼ tsp curry powder, and ½ tsp garam masala to the pan, and mix well.
Add an extra tablespoon of oil, turn up the heat and add the chicken. Add salt to taste.
Add the diced vegetables (apart from the peas and coriander). Add another ½ tsp of garam masala and ¾ tsp of curry powder.
Add 650ml of water, the tomato puree, 1 tsp curry powder, 1 tsp of garam masala, and bring to a boil.
Boil for approx 20 minutes or until sauce has thickened. Once thickened, add the coriander and peas.
For the rice:
Add 1 tbsp of oil and the cumin seeds to a medium-sized pot. Sauté the cumin seeds over medium-low heat for 1-2 minutes.
Add the uncooked rice, stirring for 2-3 minutes to toast.
Add enough water to just cover the rice. Place a lid on the pot, turn the heat up and bring to boil.
Once boiling, turn the heat down low and simmer (with lid) for 15 minutes. Turn off heat and let the rice sit undisturbed for 10 minutes before lifting the lid.
After resting, fluff with a fork, and serve alongside curry.
The healthy bit
The chicken curry is a healthy twist on the family-favourite takeaway, an Indian chicken curry! This recipe hits all the right spots without using unhealthy fats and, by adding a load of vegetables into the mix, you ensure you meet at least two of your five-a-day in just one serving. 
The spice mix used in this recipe is packed full of polyphenols which are increasingly known for their incredible bounty of health benefits.
---
This recipe was originally published in the 2021 September edition of Happiful magazine, to purchase your copy, visit shop.happiful.com.
Share this article with a friend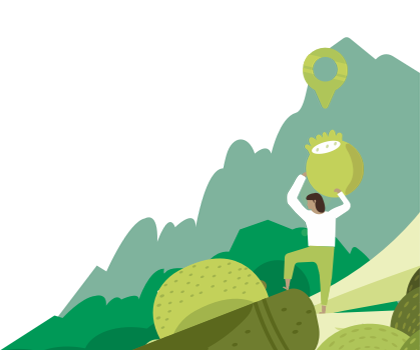 Find the right nutritionist for you
All nutrition professionals are verified