Picnic picks for alfresco lunches
Sunny summer picnics on a Sunday afternoon evoke a sense of nostalgia. Strawberries, scotch eggs, sausage rolls and plenty of crisps and dip – a picnic just wouldn't be the same without these classic goodies! 
And nowadays you don't have to stick to the traditional recipes, anything is on the menu, and all tastes are catered for. We've knocked up three of our favourites to give your picnic baskets a little shakeup. Enjoy!
Vegan sausage rolls 
Makes 9
Ingredients
6 vegan sausages, chilled

1 sheet ready-rolled puff pastry

Half a red onion, chopped 

½ cup plant-based milk, for brushing

Salt, to season

Handful of sesame seeds
Method
Preheat the oven to 180

°.

Line a baking tray with baking paper. Lay out the pastry sheet and cut into three strips.

Remove skin from sausages and place two sausages on each pastry strip. Flatten a little using fingers.

Line the chopped red onions on top of the sausages.

Fold the pastry over the sausages and seal with a fork. Cut each sausage roll into three mini rolls.

Place on a baking tray, sealed side down and make a light cut on top.

Brush the sausage rolls with plant-based milk to give a golden finish, and sprinkle on sesame seeds. Season lightly with salt.

Place in the oven for 25 minutes, until golden brown. 
"These picnic recipes are nutrient-packed, containing antioxidants, protein, complex carbs, healthy fats, and fibre," says Rebekah Esdale, nutritional therapist and mental health nurse.
"Adding red onion to the 'vegan sausage rolls' increases the fibre content, helping to balance blood sugar, improve motility, and provide food for healthy gut bacteria. A healthy gut supports a healthy mind! Red onion is also rich in the anti-inflammatory flavonoid quercetin, beneficial for those with asthma, arthritis, and allergies including hay fever. Sesame seeds add a nutty crunch, but these little powerhouses also contain healthy fats and B vitamins for steady energy release." 
Super slaw
Serves 6
Ingredients
¼ red cabbage, shredded

¼ white cabbage, shredded 

2 radishes, finely sliced

2 small carrots, grated

1 apple, grated

2 tsp apple cider vinegar

2 tsp mustard

200g greek yoghurt

Black pepper, for seasoning
Method 
On a chopping board, roughly shred the cabbage and finely slice the radish. Place in a mixing bowl.

Using a cheese grater, finely grate the carrots and apple, and add to the bowl.

In a small bowl, combine the vinegar, mustard and greek yoghurt and mix well.

Add yoghurt mix to the ingredients bowl, and stir.

Season with a good grind of black pepper, and serve.
The 'super slaw' is high in vitamin C – just ½ a cup of shredded cabbage contains your recommended daily amount.
Rebekah says, "Vitamin C is both immune-boosting and stress-busting. Radish is a powerful detoxifier, so adding this to the slaw helps to effectively eliminate toxins and waste from the body."
Classic scotch eggs
Makes 4
Ingredients
5 medium eggs, 1 beaten

300g sausage meat (or vegetarian equivalent) 

1 tbsp fresh parsley, chopped

2 tsp dried sage

150g green lentils, mashed

125g breadcrumbs 
Method
Preheat the oven to 180

°.

Bring to boil a pan of cold water. P

lace eggs in water and then reduce to simmer for approximately 10 minutes.

While the eggs are boiling, combine the sausage meat with the parsley, sage and green lentils and mix well.

Once eggs are cooked, plunge into cold water and peel. 

Divide the sausage meat into four and pat into a disc shape. Lay an egg on each disc.

Close the sausage meat around the egg and seal.

Pour the breadcrumbs into a shallow dish and the beaten egg into another dish. 

Dip the meat-covered egg into the beaten egg, and then roll in the breadcrumbs to coat the surface.

Place each parcel on a baking tray and bake for approximately 25 minutes. 
Rebecca says, "The 'classic scotch egg' is the perfect protein-packed picnic snack. Protein provides the raw materials for the neurotransmitters our brains require, such as GABA, serotonin and dopamine. Lentils are a great source of plant-based iron, essential for transporting oxygen around the body and energy production. Parsley is rich in vitamin C, which enhances the absorption of iron. Choose good quality, organic sausage meat and wholemeal breadcrumbs to increase the complex carb content of the dish."
---
Rebekah Esdale is a mental health nurse and nutritional therapist specialising in women's mental health and wellbeing. Rebekah empowers women to flourish with her Explore-Nourish-Balance-Restore one to one programme, and runs The Wildly Well Tribe Facebook group. 
This article was originally published in the August 2020 issue of Happiful Magazine. To purchase your copy, head to shop.happiful.com.
Share this article with a friend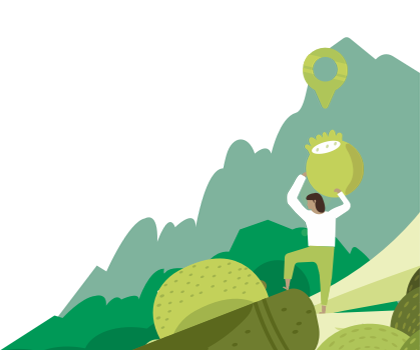 Find the right nutritionist for you
All nutrition professionals are verified