Sarah Hart, BSc (Hons), mBANT, CNHC
Reading, Berkshire, RG10
07884 471280
07884 471280
07884 471280
07884 471280
About me
PLEASE NOTE THAT DUE TO THE COVID-19 VIRUS SARAH WILL BE OFFERING ON-LINE CONSULTATIONS ONLY.
Sarah is a fully qualified Registered Nutritional Therapy Practitioner achieving a BSc (Hons) degree at the University of Westminster, London.

Sarah covers the Berkshire and surrounding areas and visits clients at their workplace or locally.  Sarah offers 1:2:1 private consultations, bespoke workshops and seminars.  She also works in London and other areas providing corporate workshops on various nutritional subjects and enjoys taking part in Wellness events locally and in schools.
Nutritional therapy aims to apply nutrition and health science to individuals to maximise their health potential.  Each person has unique dietary and nutritional requirements which are assessed on an individual basis.  Many other factors are also considered including possible food allergies, lifestyle, biochemical and nutritional imbalances and environmental influences.
Having previously worked for many years in the corporate financial sector, Sarah is fully aware of the affects of day to day stressors associated with deadlines, endless meetings and that dreaded daily commute (where you are lucky to find standing space let alone a seat these days!). She is also the mother of a young daughter, so knows how important and beneficial a nutritious diet is to not only children but both parents in respect to boosting and maintaining energy levels, combating fatigue, stress, post-natal issues, mood swings, and achieving weight loss. Advice is also offered on how to improve your overall diet and lifestyle to maintain a healthy balance, working towards adapting long-term healthy eating habits, seeking advice regarding specific conditions and ailments or working towards a physical goal or challenge and more.
Also with a keen interest in sports and fitness, Sarah has completed a course held at the Centre for Nutrition Education & Lifestyle Management (CNELM) based in Wokingham, which covered the following modules:
Functional Sports Nutrition - by Ian Craig
Overtraining and Stress - by Ian Craig
Biochemical Individuality & Genetics of Nutrition and Training - by Ian Craig
Injury and Illness - Ian Craig
Psycho-Neuro Immunology in Sport - by Tom Fox
Fuel for Athletes - by Christine Bailey
This additional knowledge enables Sarah to give comprehensive nutritional advice in these areas too which she is especially passionate about and has recently lead to her advising a member of Team GB.
Many clients have approached Sarah with variety of problems and she is here to help you by offering private consultations.  Her aim is to work with you in a supportive role to identify and address a wide array of conditions and goals.

Whatever your goal, nutritional therapy may help by providing a refreshing and natural approach. Sarah will create and develop a bespoke, realistic, personalised, dietary protocol tailored just for you.  This will enable you to then work towards achieving your nutritional goals.
Training, qualifications & experience
Fully Qualified - BSc (Hons) degree in Nutritional Therapy - University of Westminster, London.  Sarah is a member of the British Association for Applied Nutrition and Nutritional Therapy (BANT) which is the professional body for Nutritional Therapists. She is also a full member of the Complimentary & Natural Healthcare Council (CNHC) which regulates Nutritional Therapy (and other complementary therapies).  The CNHC is the only register for Nutritional Therapy recognised by the Department of Health

1:1 private consultations.
Group seminars.
Children's workshops in schools.
Corporate events offering presentations and bespoke workshops - for example Sarah was recently involved in running a series of workshops for a large construction company, Lendlease in London.  She has also taken part in a 'Stress Awareness Day' held by BP and a teachers' Wellbeing two day event held at Goldsmith University, London.  Sarah also runs workshops for the local housing association on healthy eating and has been funded by the local authority to enhance wellbeing in the local community.
Sarah also attends regular BANT meetings and nutritional seminars to ensure that her knowledge is kept up to date.


Member organisations

British Association for Applied Nutrition and Nutritional Therapy
The British Association for Applied Nutrition and Nutritional Therapy is the professional body for Nutritional Therapists.

There are different BANT membership classes, including Full Member, Fellow Member and Student Member.

All BANT practitioners must have met the required standards of training, be fully insured and adhere to the BANT Code of Ethics and Practice.

Complementary and Natural Healthcare Council
The CNHC encompasses many types of alternative therapy, including massage, aromatherapy and nutrition.

In order to be admitted to the register a practitioner must have studied to the National Occupational Standards for that profession/discipline, or have reached the equivalent of the National Occupational Standards through other relevant training or at least three years of experience and been assessed by their peers.

A practitioner must also have professional insurance and agree to abide by the CNHC Code of Conduct, Performance and Ethics.
Accredited register membership

Accredited Register Scheme
The Accredited Register Scheme was set up in 2013 by the Department of Health (DoH) as a way to recognise organisations that hold voluntary registers which meet certain standards. These standards are set by the Professional Standards Authority (PSA).
This therapist has indicated that they belong to an Accredited Register.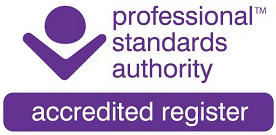 Fees
Quotations are provided on an individual basis for corporate and general workshops and seminars.
Initial email /telephone enquiry - FREE
Prior to booking an initial consultation it is often beneficial to have a brief discussion with you to ascertain whether I am able to offer the advice and support you require.  My aim is to work with you as a team in a supportive role as well as ensuring that you are completely comfortable with any recommendations I may make. Each client is offered nutritional advice on an individual basis whereby a personalised dietary protocol is created.  Please note that initial discussions are completely free with no obligation to book a consultation.


1:2:1 Private consultations - Initial - £95 (up to 90 mins):
Your initial consultation will last for one hour.  Prior to this consultation you will be asked to complete a questionnaire providing general information about yourself, including your medical history.  You will also be requested to keep a detailed food diary for a minimum of three days.  Receipt of these documents prior to your consultation will enable me to gain some background information about you before we meet.  This also gives me a chance to carry out any necessary research beforehand.  During your consultation, comprehensive notes will be added which will enable me to gain a full understanding of your nutritional needs and to look in more depth at the factors which may be contributing to your health situation.  Initial dietary and lifestyle recommendations may be given at this stage, depending on your nutritional goals.  However, it may be necessary to carry out some further research whereby recommendations tailored to your specific needs will follow in due course.  Written dietary, lifestyle and supplement (if applicable) recommendations, together with any relevant hand-outs will be provided.


Follow-up Consultations - £75 (up to 1 hour):
Depending on your nutritional goals, these usually occur within two to four weeks following your initial consultation.  At your initial consultation, you will be requested to continue to record and send detailed food diaries to me on a weekly basis for assessment. During follow-up consultations these will be discussed in great detail.  Your ongoing individual dietary and lifestyle programme will be specifically tailored to suit your needs and any further recommendations given.  We may start to tackle other areas in the overall strategy for improving your health or reaching your nutritional goals.  In certain cases, a comprehensive analysis of your food diary may have been carried out using a specific computer programme called 'Dietplan 6' and discussed with you (this extra service is available an amount to be discussed, if appropriate). It is often necessary to carry out an element of research between consultations from which further recommendations may be made.  This is inclusive of my fee.  Any queries and concerns will be discussed at each consultation and appropriate support offered where required.


Email, Skype and telephone support are available in between consultations.
Further information
We are all individuals with individual lifestyles and nutritional needs.  Information about diet and healthy eating is plentiful, but so are the myths, making it hard to know what is right for you.  A nutritional approach is about helping your body get the nutrients it needs to function on its best and helping you understand how your current diet and lifestyle may be contributing to your health concerns.  Nutritional therapy does not replace medical care.  However, many symptoms and conditions may be helped by diet and lifestyle changes – but you do not have to be unwell to benefit from the power of good nutrition.  A few simple changes may make a real difference to your energy and give you a zest for life!


Testimonials

I was introduced to Sarah by my Physiotherapist, Mike Chisholm. As an elite GB athlete I had been fortunate to work with Mike for a number of years and he believed I would really benefit form reviewing my nutrition with Sarah as part of a wider plan to improve my strength and endurance. Sarah was very approachable and flexible and was happy to work around my training schedule We instantly established a rapport and she quickly grasped an understanding of my life style and training regime. Through a series of meetings we reviewed my eating plans, nutritional supplementation programme and she helped me to experiment with foods and recipes that I previously would not have considered. Follow up meetings and being able to contact Sarah by email and Skype are very Important to me particularly in the middle of a frantic training and competition season, and she has been able to offer advice about a whole range of ongoing concerns including anti-doping, supplementation and an ongoing low level health issue that was getting in the way of achieving my sporting potential. I really value Sarah's support and advice and appreciate her willingness to communicate and work with the sports professionals that I work alongside. I continue to see Sarah and like Mike, have noticed a real improvement in overall health, ability to recover and reduced susceptibility to injury as a result. (Genevieve, age 17 - TEAM GB)
"Sarah was always so generous with her time and she is very approachable which made it easy to talk to her. I was able to reflect on my lifestyle and eating habits and with Sarah's input I was able to make some small changes that improved my general wellbeing." (Catherine, age 58)
My first initial consultation with Sarah was a gift from my wife and at first I was a little sceptical to say the least! I always thought I ate a healthy and balanced diet and I exercise regularly but was always hungry and snacking. After a few sessions with Sarah I made a few easy adjustments to my diet and I'm no longer constantly snacking and have loads more energy. Thanks! (John, age 40)
Meeting Sarah and discussing my reasons for a consultation proved to be very beneficial. She guided me through her recommendations which have helped me to overcome some of my problems. It has been a worthwhile experience talking to her in more ways than one. I would recommend her to anybody searching for an experienced, knowledgeable nutritionist.  (Jeannette, age 69).
Sarah saved me!!!! I am a busy mum with 3 boys of 10 years and under.  I got into the habit of eating too much sugar and carbs in the attempt to gain quick energy and I was far too reliant on caffeine!!! Luckily I do also love fruit and veg so it was not all bad!!!
I met with Sarah for an initial consultation where I confessed all and I found her manner and questioning so supportive and positive that I immediately felt motivated to do something about my eating habits and weight gain. Sarah explained simply about the importance of protein in diet and how it makes you feel more satisfied - I also discovered the delight of spiralised courgettes and butternut squash which I used as a replacement for pasta and rice.
Sarah gave me some simple tips on what to eat and I loved the fact we were embarking on a journey of healthy eating with good fats and tasty foods rather than the dread of a strict diet that I have no will power for!!!
I took the caffeine away too quickly and got a couple of nasty head aches but Sarah soon helped me to sort that out by reducing it more carefully.
I got used to some tasty meals which filled me up but to my delight the weight started shifting off me.  I reached my target weight by August and the trick is to keep this off until my 50th birthday in November (and beyond of course) I have gone down two dress sizes and I still love my food - I do have one confession that I cannot resist chocolate but as Sarah said its ok in moderation!!!
Sarah supported me all the way through via chats at school drop off, emails and texts - she still keeps an eye on me even though we have stopped the consultations now.  I needed that support to keep me motivated and to bounce ideas - which Sarah is brilliant at.
I would highly recommend Sarah - who is knowledgeable, non judgemental and very easy to talk to.  I could never have achieved these results without her.  Thank you Sarah (Katie, age 49)


I found the consultation very helpful and left with a clear plan of action with regards to my diet and nutrition ahead of the London Marathon in April.  I felt that Sarah explained things very clearly and this helped me to see the benefit in making changes to my diet.  I also greatly appreciated her sending me the supplements list as these are things which I think I will benefit from massively. (Jack, age 26)

Hi Sarah, I would like to send you a note about Alexander now 12 months on, 20 kg lighter and down from a 36 inch waste to 28 inch.  A remarkable change not only physically but gained all the confidenc e he lacked. Just to say your help and advise was instrumental to change. Thank you. Andrew (Received from a parent on behalf of his 19 year old son).

Sarah helped me to change my eating habits for good. She taught me aspects about food that I've never known before, and gave me simple tips and tricks to immediately improve, and sustain for life. Her feedback on my food diaries was gentle but firm, and over time I learned to notice when certain foods weren't beneficial for my long-term health goals. On top of that, Sarah's a lovely lady and easy to speak to! (Steve, age 25)

Sarah, thanks so much for helping me with my problems.  I'm so grateful for your care and kindness and all the advice you have given, it is so appreciated. (Dawn, 54)


I was introduced to Sarah by my personal trainer. At first I just wanted help to understand what foods I could eat to widen my choices of meals, without realising how much there was to change in my diet. In just a short amount of time Sarah has given me all the advice I needed to change my diet completely. I am very happy with the results I have got from the sessions with Sarah and have noticed such a difference in my day to day life (Emily, age 23)

Seeing Sarah helped me to be accountable for my food decisions and by tracking them honestly and accurately we could identify choices that were leading to low energy and digestion issues. Her approach was friendly, non-judgemental and practical. I continue to use the advice she provided and have made small but significant changes to my eating habits. (Katia, age 34)

I was introduced to Sarah by my personal trainer as I was looking for advice on the right things to eat to complement my intense exercise programme and improve my general energy levels.  Sarah is very knowledgeable and from our first consultation was able to identify areas I could improve by making some simple changes. She reviewed my food diary and explained how my eating habits were affecting my body and hormones - which was a real eye opener!  From there we worked together to make gradual changes – the simple things like eating a more varied diet, including more vegetables and reducing sugar but then also more specific things like adding protein, Vitamin D and fish oil supplements to my daily intake.The change was almost immediate, within a couple of weeks, my energy levels increased, my sleep improved and I was performing better at the gym. I thoroughly enjoyed working with Sarah and feel I have gained the knowledge I need to be able to maintain this healthy lifestyle in the long term.(Serena, age 33)

'Sarah and I begun our consultation as I wanted guidance as to the right way to improve my healthy lifestyle through food, and meal planning. What I particularly enjoyed was the connection Sarah showed in getting the most out of me with the food we talked about going forward. In fact, it is this that has energised me to do better, and be better with food.
On a personal note, the communications and thoughtfulness Sarah shared, made me content with my choice. I liked the consultation set up as well.' (Matt, age 39)

I had suffered for years from hormonal problems and PMDD causing me to have a very unhealthy relationship with food. I alternated between binge eating processed foods and dieting on lettuce leaves. I also have an extremely stressful job and had suffered from various infections which had left me with poor immunity and fatigue. I had a number of health complaints such as low mood, aching muscles, severe menstrual cramps, nerve pain, head-aches and I.B.S. I had seen a nutritionist before, but not found a solution which really worked for me. At age 32 I was feeling desperate to lose weight and regain my health, but I had no idea where to start. I wanted to lose weight in order to feel better about myself at my sister's wedding. Sarah is an extremely knowledgeable, passionate and non-judgmental person. She is very warm and kind and instantly put me at ease during consultations. She thoroughly considered every aspect of my difficulties, my goals and my lifestyle and was able to make suggestions which were easy to follow and quickly showed results. Sarah demonstrated that despite my attempts to eat healthily with lots of vegetables I had nowhere near enough protein in my diet which was causing my energy slumps and hunger. After addressing this I felt more in control and for the first time for about 10 years I developed a normal eating pattern. She was also able to suggest supplements to support my immunity and health problems. Sarah sensitively considered issues such as my working patterns, food preferences and budget to enable me to create the best solution. Within 10 weeks I had dramatically improved my sleep, energy levels, bowel movements, mood, hunger pangs and cravings and lost 1 stone. I feel that Sarah has really empowered me to take control of my health and wellbeing. She is genuinely excited by and shares in the success of her clients and her positivity is infectious. I would strongly recommend her to anyone wanting to tackle difficulties with food or improve any aspect of their health. (Rachel, 32)

It was interesting to do a food diary and go through it in the session as until you write your eating habits down you don't realise how little or a lot you eat, your habits & routine. It was also good to know that not all the food you are eating, that you might think is good for you, actually might not be the case ie fruit. It was also very helpful to go through what food and nutrition you should be eating to help gain your individual goals. This includes how the types of food you eat effect you not just with weight, but energy levels & mood.  Supplements, some that I didn't know were out there, would benefit me too. There was a lot of information and advice given which was extremely helpful and I feel like it has helped me to take a step in the right direction and get me on the right path to start to achieve my goals.  Thank you so much again much appreciated! (Amy, 26)

As a disillusioned, food-ignorant 45-year old, I was becoming neurotic about my diet and was desperately in need of a food plan. Sarah soon put things right. She insisted on a detailed daily food record, a pain in the behind to complete but in the end indispensable to Sarah's recommendations for my diet. What impressed me most about my initial consultation was the thoroughly detailed written summary produced by Sarah, which has formed the basis of my new dietary direction. It showed that she listened to what I had to say and then devoted careful consideration to a suggested food plan. I gained loads of healthy recipe ideas and was seriously motivated to cut out sugar and processed foods, whilst eating more protein-based foods and raw vegetable and fruit. Within weeks, I felt more energetic and my mood had lifted noticeably. I am a life-long insomniac and my sleep has also improved since our consultations. It really has made a considerable difference.  (Carl, aged 45)     

After having had Glandular F ever and a stressful year with studies and personal life, I was exhausted by the time it came to starting a degree at university. Having burnt out I decided to suspend my studies for a year and was left with a sudden change of environment and a helpless feeling. I turned to nutrition in order to try to regain energy and sort out my digestion. What I appreciate about Sarah is that she looks carefully at the big picture e.g. diet, exercise, stress etc (which doctors don't!) and piece by piece helped me to recover using natural methods and quality supplements. She is professional and helpful, providing knowledge and explanations and promoting a simple, healthy lifestyle, which is otherwise tricky due to the sheer amount of information out there. In addition to this, she is very supportive and makes it feel like a team effort. She has provided me with an understanding of my body that is invaluable and I will take forward with me. I would advise exploring nutrition to anyone and Sarah Hart in particular. (Sarah, age 19)


My name is Andrew Withers, I run a globally franchise chain of restaurants spending most of my time travelling in airports and hotels. I would highly recommend Sarah in improving my understanding of healthy living and not a constant stream of YO YO dieting .  Live well and start to enjoy foods again as they are good, we need to spend a little time understanding what we consume on a daily basis.
Over detailed meetings, Sarah spent time explaining that a lot of marketing on packaged food items are often confusing and may contain high levels of salts and fats.  She explained that there are healthier ways of eating and snacking when giving more consideration of what to buy.  Sarah gives contact and detailed information at all times.  In combination with a healthy eating program and exercise your goals can be achieved.  A new way of living, and not living to diet. (Andrew, age 49).


When I first met Sarah I felt like a broken woman.. For 8 months I had suffered with irregular bowel movements, anal fissures, piles, aching head, poor complexion, itchy skin, brain fog, extreme fatigue and chronic UTI's. Doctors gave me antibiotics and more antibiotics, I never realised how damaging they could be if not taken with probiotics, and was never advised to use them. I had seen specialists for my anal fissures and was at the point of them wanting to give me Botox injections to treat them. I felt like I was living a nightmare, not knowing how I would feel each day began to ware me down and my stress levels were causing problems between my partner and I. My first visit to Sarah gave me a glimmer of hope, she was so warm and welcoming and I unloaded all my problems around the table with her honestly. She didn't judge me at all. I left our first meeting feeling positive and with a new understanding of how important diet is. Sarah explained how each of my symptoms may be linked to food sources and it made sense! I would never have considered seeing a nutritionist but my partner researched my conditions and called Sarah to discuss how she could assist. After my first four weeks of filling out my food diary I started to become aware of how some foods I ate worsened my symptoms. At our next meeting Sarah had new ideas on tackling certain areas, food samples, including nuts, for me to try and alternative natural ways of helping with my fissures. Four months later and I'm like a new woman, I feel full of energy, my skin is glowing, my bottom is functioning as it should be and to top it all off I'm healthily pregnant!  Sarah has given me a new life line and now I really do understand that you are what you eat!! Thank you Sarah! (Lina, age 33)

By visiting Sarah I gained a better insight and understanding into why my body was feeling so sluggish and lethargic, something I struggled to shake off following surgery and chemotherapy.  Sarah gave me some great dietary and lifestyle recommendations to improve many aspects of my life, which I am still putting into practice and working out.  Ultimately time is a great healer, keeping occupied physically and mentally, is the best way forward although sometimes easier said than done. (Nuala, age 49)


I decided to approach Sarah after being placed on a rather nasty drug by my local hospital for my poor facial complexion, resulting in a few health issues, especially with digestion and appetite. I'd also lost weight from a short-term stomach bug and wanted to maintain and learn how to eat healthier. Once we had arranged to meet, she was very helpful at setting out a meal plan and giving recommendations to enable my body to, eventually, improve my complexion through diet and maintain my weight. I am finally, after a long 12 months, happy to say I feel very different and very health again. Sarah was always at the end of a text or email, reassuring, advising and giving me guidance when times were tough.Sarah is a very happy, friendly and smiley person and I can't recommend her enough. (Emma, age 25)


"I approached Sarah after I had become increasingly concerned about my inability to tackle modest increases in my weight, and more importantly, to tackle regular severe pain in my heads and some other issues that had remained unresolved for many years.
I was immediately put at ease by Sarah. Her friendly and professional approach quickly overcame any nervousness I had in discussing my issues.
It quickly became apparent that Sarah was extremely knowledgeable, and was able to explain the reasons for her approach, the results of her investigations and her recommendations clearly.
I was impressed that Sarah was able to help with correspondence with my GP and helped explain the reasons for any treatment and interpret the results from any tests.
With a clear way of monitoring progress and a clear plan of how to move forward, I feel much more confident that I am back in control of my health and well being! (Maria, age 37)
"After suffering from debilitating food intolerances and fatigue over a long period of time I decided to seek expert advice. Sarah has helped me to identify the specific foods that trigger reactions and eliminate them from my diet, whilst also recommending nutritional supplements and changes to my diet to help repair the damage and improve my overall health. I have incorporated her recommendations into my daily routine and I feel better and look better as a result. I have completely changed my mindset regarding my diet, which I know I will benefit from for years to come." (Duncan, age 38)
"Sarah has been advising me on healthy diet for a few years now.  What I admire most about her is the way she analysed me and came to the right conclusions very quickly.  She then went on to suggest small life style changes that were easy to implement and yet yielded the wanted results.  I would warmly recommend her to anybody who has the determination to implement her sound advices." (Akos, age 50)

"Having suffered two unknown viral illnesses my immune system was weak and affecting my daily life. Through a series of face-to-face consultations Sarah analysed my diet and lifestyle and produced a 'Diet Plan 6' analysis which highlighted which nutrients I was lacking and the effect this was causing on my body and my health. Sarah then suggested a variety of different meals, snacks  and additional nutritional supplements specific to my dietary needs in order to boost my immune system, reduce fatigue and improve my wellbeing. The follow up of numerous Skype conversations was also great because it allowed us to discuss my progress and any issues, but was also very convenient and saved both parties travelling long distances. By following Sarah's advice and adapting my eating habits and lifestyle I have managed to stay healthy and fit and I know Sarah is always contactable should I need any further advice". (Daniella, age 19)

"I was recommended a consultation with Sarah, following a few false starts elsewhere. With a young family my concerns were over diet and falling energy levels generally. Sarah has been superb, providing me with a bespoke and professional service. This has educated my approach to nutrition and enabled me to make healthier choices in relation to what I (and my family) are eating daily. We agreed an approach, omitting and adding food types over a period of time, accompanied by fairly intense scrutiny and the appropriate supplements. The resulting improved energy levels are both clear and appreciated. I would not hesitate to recommend Sarah's services for nutrition". (Sarah, age 40)

Sarah has been so helpful for me in teaching me about food and talking through my issues in great detail. She has highlighted areas for improvement in my diet and I am now seeing the benefits and feeling much better. Sarah has helped me keep positive through a difficult period. I would certainly recommend Sarah and would like to thank her for all the great advice. (Megan, age 33)