Healthy eating
The benefits of flaxseeds
They're such tiny seeds…how can something so small be so nutritious? 
Looks can be deceiving, as these shiny little seeds with a mild nutty flavour are a powerful superfood with a wealth of health benefits. They can also be referred to as a 'functional food', which means they have specific therapeutic purposes beyond their nutritional value. And in case you are wondering, a flaxseed is the same as a linseed, with golden and brown varieties. After reading the many benefits of dietary flaxseed intake, you'll be wanting to incorporate them into every meal! 
Benefits of flaxseeds
They're tiny bundles of nutrients
Flaxseeds are packed full of omega-3 fatty acids, protein and fibre. They are brimming with vitamins and minerals including:
magnesium – contributes to bone health and the reduction of tiredness and fatigue 
thiamine – plays an important role in energy production
copper - helps produce red blood cells and transport oxygen around the body
Additionally, flaxseeds are a rich source of health-protective antioxidants called polyphenols.
They support heart health
Alpha-linolenic acid (ALA) is a type of omega-3 fatty acid that must be obtained from food. Flaxseeds are an especially good source of this essential fatty acid, especially if you're not a fan of fish (another rich source).
ALA may protect against cardiovascular disease and is possibly effective for reducing the risk of hardening of the arteries and lowering high blood pressure and cholesterol.
They support constipation relief
Containing both soluble and insoluble fibre, flaxseeds may help promote regular bowel movements and support digestive health.
Due to their soluble fibre content, which slows digestion, flaxseeds may help you feel fuller for longer and less likely to reach for unhealthy snacks. 
They can help menopausal symptoms
Rich in phytoestrogens called lignans, flaxseeds may be protective against mild menopausal symptoms such as hot flashes and may also lower the risk of breast cancer in postmenopausal women. 
They support blood sugar balance
Flaxseeds can have a positive effect on stabilising blood sugar, great news for PCOS. Studies showed supplementation reduced blood glucose in subjects with type 2 diabetes and lowered blood glucose in subjects with prediabetes.
They are versatile
Here are some ways to enjoy flaxseeds:
Flax crackers – see below for a super simple rosemary and sea salt flax cracker recipe. They're delicious dipped in hummus and work well with many diets e.g. gluten free, grain-free, vegan, keto.
Substitute eggs – combine 1 tbsp of ground flaxseeds to 3 tbsp of water and refrigerate for 10 mins to thicken. This produces a gelatinous substance, similar to egg whites, which helps bind ingredients together in recipes.
Pimp up your breakfast by adding to smoothies, porridge, yoghurt and cereal.
Sneak into kid's food e.g. pancakes, muffins, flapjacks, soups, stews - due to it's mild flavour picky eaters won't even notice.
How to take full advantage of these super seed benefits
Firstly, store whole flaxseed in a cool, dark place. It's best to eat them ground, as this helps with bioavailability and digestibility. However, grind just before you eat them and store any surplus in the fridge/freezer or follow the storage instructions on the pack if you buy them milled. Go for organic if you can and even better sprouted, to further boost their digestibility. 
Are you ready to give this superfood a try? 
They are widely available in supermarkets and health food shops, with Linwoods being a popular brand in the UK, offering great recipe suggestions on their website.
Generally, flaxseeds are well tolerated but we're all unique and it's recommended to introduce slowly, consume with plenty of water to avoid digestive symptoms, avoid during pregnancy and check any interactions with medications you are taking.
I'd love to know how you get on introducing flaxseeds into your diet and if you would like further support in making dietary changes and optimising your gut health please do get in touch. 
---
Flaxseed recipe: Rosemary and sea salt flax crackers
Ingredients:
40g ground almonds
50g sunflower seeds
50g pumpkin seeds
50g sesame seeds
30g chia seeds
30g ground flax seeds
2 tbsp dried rosemary 
1 tsp sea salt 
20g coconut oil (melted)
210ml boiling water
Instructions:
Preheat the oven to 160 degrees C (140 Fan, 325 Fahrenheit, Gas 3) and melt the coconut oil.
Place all the dry ingredients in a mixing bowl and stir to combine. 
Add boiling water and coconut oil and mix. Keep stirring until the dough forms a ball and has a gel-like consistency. You can add more water if too dry and more ground flaxseed if too wet.
Place half the dough ball between two sheets of baking paper and use a rolling pin to flatten the dough evenly – the thinner the better. Don't worry about the shape.
Transfer the cracker mixture (with baking paper) onto a baking tray and place a new sheet of baking paper on your work surface so you can repeat with the other half of the dough.
Remove the upper paper and put both baking trays in the oven for about 40 to 50 minutes. Rotate the pans half-way through cooking and once firm (approx. 10 minutes before the end) gently flip over and break into pieces/shards before returning to the oven to crispen further. Pay close attention towards the end as the seeds are sensitive and you don't want them to burn.  
Once fully dehydrated and crisp remove from the oven and allow the crackers to cool completely before transferring to an air-tight container. 
Note: they're super adaptable and you can play around with the flavour combinations. Garlic and onion powder both work well or you could substitute rosemary for dried oregano or thyme.
Share this article with a friend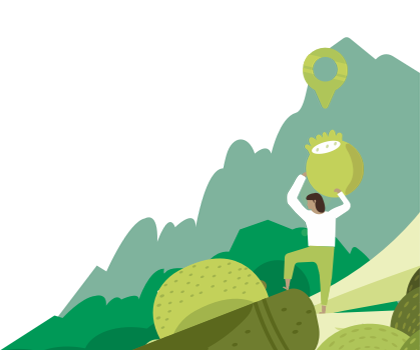 Find a nutritionist dealing with Healthy eating
All nutrition professionals are verified