Healthy eating
Superfood crackers
This superfood cracker is made with blue or purple corn flour, milled flaxseed, chia seed, almond flour and sea salt. It can also be baked with rosemary, garlic or other herbs, depending on your preferred flavour.
I wanted to make a cracker that was not only packed full of nutrients but one that was delicious and versatile - they can be eaten with almost anything! Whether you fancy dipping them in homemade hummus, layered with your favourite cheese or topped with nut butter and fruits, this will be a new picnic and party essential.
Ingredients
2 tbsp blue or purple corn flour
4 tbsp almond flour
1 tbsp ground flaxseed
1 tbsp chia seeds
Approx half a cup of water
Pinch of salt
*Optional extras - rosemary, garlic or your choice of herbs or spices.
Method
Preheat the oven to 180 degrees.
Add the dry ingredients and combine in a large mixing bowl. 
Add some of the water to make a semi-thick liquid. Set aside for 5 minutes to thicken.
Meanwhile, line a baking tray with parchment.
Once the mixture has thickened (you should be able to pour it - add a splash of water if it's become too thick) pour the mixture onto the tray, tilting gently from each corner so that it is evenly spread.
Place in the oven, reducing the heat to 160 degrees, and bake for 45 minutes or until crispy.
Remove from the oven and allow to cool. 
Once cool, break into pieces and place in a bowl.
Serve with spreads or dips of choice.
---
The healthy bit 
Blue or purple corn flour is low in carbohydrates and is highly nutritious. It is packed with flavonoids, a class of compounds found in plants with antioxidant effects, helping to repair and maintain our cells to boost immune health. 
Not only is blue corn lower in carbohydrates than the more commonly known yellow corn, but it also has three times the fibre content. Blue corn also contains a vast array of vitamins and minerals (calcium, iron, magnesium, potassium and zinc, to name a few). 
Almond flour (or almond meal) is a favourite among those who follow the keto diet because it is low carb and can be easily used as an alternative to wheat flour. Almonds are high in vitamin E, fibre, magnesium, potassium, riboflavin and phosphorus, and they are rich in unsaturated fats which help slow down glucose uptake. They are also a good source of protein, helping to keep blood sugar stable.
Flaxseeds are a great addition to nutrient-dense crackers. They are super high in omega-3 fatty acids, namely ALA (alpha-linolenic acid). ALA is promoted as protecting against cardiovascular disease, improving asthma control, having anti-inflammatory effects and building healthier bones. They also contain lignans, which are a type of phytoestrogen, part of a group of compounds that helps reduce the risk of osteoporosis, heart disease and breast cancer. Plus, ALAs have antioxidant properties; they are a source of soluble fibre which can help lower cholesterol and stabilise blood sugar and are a good source of plant protein and potassium.
Chia seed is another 'superfood' rich in minerals, fibre and anti-inflammatory properties. Chia seeds can also help improve the gut microbiome. 
Oat bran can also be added to the recipe. A teaspoon or two of oat bran can add fibre and beta-glucan. Beta-glucan is said to have a positive effect on cholesterol and blood glucose levels, as well as help to reduce the risk of some types of cancer. 
---
At Hair Analysis UK, we use hair mineral testing to guide our nutritional balancing protocols. We typically recommend blue and purple corn as part of a healthy diet, and by adding in high fibre, low carb and high protein ingredients, many clients can manage their blood sugar levels which goes a long way to healing symptoms that are both physical and emotional. The seeds help to feed a good microbiome which is vital for health. 
This article was originally published in Happiful Magazine (Issue 64). You can order print copies online, or read the e-magazine for free on the Happiful app. 
Share this article with a friend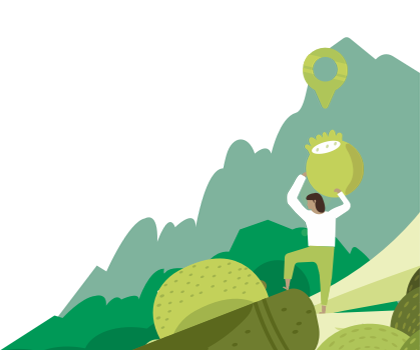 Find a nutritionist dealing with Healthy eating
All nutrition professionals are verified