Healthy eating
Plant-based picnics
With months of warmer weather ahead, we're all looking forward to getting outside to enjoy the fresh air, and delight in some time spent with our friends and families. So to get you back into the swing of British summers, here are three recipes that will ensure your picnic is the pick of the bunch! 
To spend more time in the sun, make the carrot and butter bean dip ahead of the day – it keeps for two or three days in the fridge – and take some extra vegetable crudites or seeded crackers to dip. Prep the salad in advance too, just add the dressing at the last minute.
Simply add some ready-made accompaniments such as falafels, veggie samosas, and a tub of olives to your cool box to turn these delicious recipes into a feast. Here's to plenty of picnics in 2021!
Carrot and butter bean dip
From start to finish: 25 minutes, plus cooling
Ingredients
350g carrots, peeled and thickly sliced    
150ml vegetable stock    
1–2 cloves garlic, crushed     
2 tsp harissa paste    
400g can butter beans, drained and rinsed 
2 tbsp almond or cashew nut butter     
1 tbsp fresh mint, chopped   
Salt and freshly ground black pepper
Method
Cook the carrot with the stock for 10 minutes until just tender. Allow to cool.
Transfer to a food processor, add the rest of the ingredients and blend until pureed.
Season, then cover and refrigerate until needed.
Serve with some pitta bread, or any other flatbreads or veggie sticks.

Cauliflower tabbouleh salad with squash and seeds
Serves 6–8. From start to finish: 60 minutes
Ingredients
500g butternut squash, peeled and cut into bite-sized chunks
1 tbsp olive oil
Salt and freshly ground black pepper
2 tbsp pumpkin seeds
2 tbsp sunflower seeds
100g quinoa
75g Puy lentils 
1 medium cauliflower (approx 500g), cut into small florets
100g sunblush tomatoes
A handful mint leaves and flat-leaved parsley, chopped
For the dressing
2 tbsp extra virgin olive oil
1 tbsp lemon juice
1 clove garlic, crushed
Method
Preheat the oven to 190C/170Cfan/gas 5. Toss the squash in the oil, season and transfer to a roasting tin, then bake for 30 minutes until tender. On a separate baking tray, roast the seeds in the oven for 10 minutes until golden.
Meanwhile, cook the quinoa as directed on the packet for 10 minutes, then drain and cool. Cook the lentils in boiling water for approx 20 minutes until just tender, then also drain and cool.
Boil the cauliflower for 2 minutes, refresh under cold water, then drain. In batches, transfer it to a food processor and blitz until it looks like rice.
Tip this into a large bowl, and add all of the prepared ingredients with the sunblush tomatoes and herbs.
Mix the dressing ingredients, add to the salad, and toss everything together.
Apple flapjacks
Makes 12. From start to finish: 40 minutes
Ingredients 
200g porridge oats (gluten-free if preferred)     
25g sunflower seeds    
15g linseeds
15g chia seeds      
25g flaked almonds     
1 tsp ground cinnamon 
1 eating apple, grated      
3 tbsp clear honey      
60g coconut oil    
Replace honey with maple syrup if vegan.
Method 
Preheat the oven to 180C/350F/gas mark 4. Grease the holes of a 12 bun or muffin baking tin.
Put the dry ingredients into a bowl, add the grated apple and stir together. 
Measure the honey into a small bowl, add the coconut oil and microwave for 30 seconds to melt. Pour onto the oat mixture. Mix well until it all begins to come together.
Divide the mixture between the holes of the bun tin, pressing it neatly into each, then bake in the oven for 20–25 minutes.
Remove from the oven and let it cool for 10 minutes. Using a small palette knife, lift the flapjacks onto a cooling rack to cool completely. 
Pack in an airtight container for your picnic.

The healthy bit
Salads are great for summertime, and this cauliflower dish is bursting with goodness. While the butternut is a good source of the antioxidant beta carotene, vitamin C, folic acid and potassium, cauliflower provides vitamin K and C, while also having a high fibre content. We should all be eating a portion of vegetables from the cruciferous family (such as cauliflower) every day, as they contain compounds that may help prevent cancer, and certainly, help to keep our liver working optimally. 
Quinoa is a fantastic wheat and gluten-free choice for grains. It's technically a seed rich in amino acids, so is a good source of protein and also magnesium and manganese. It has good levels of vitamins B2, vitamin E and dietary fibre. Adding seeds to salads creates a lovely crunch and texture, and roasting them really does bring out the flavour. You could roast extra and have them as a handy, healthy snack for nibbling!
I'm always making alternative dips to hummus, and this one uses the often forgotten butter bean, giving it a lovely creamy texture. Pulses provide a source of protein, so important if you are vegetarian or vegan, and are high in cholesterol-lowering fibre and complex carbohydrates, while being low in fat. Combined with carrot, another good source of beta carotene, you get a glorious golden mixture, as well as another highly nutritious and delicious dish for your picnic.
For more delicious, healthy recipes, head to the recipe hub.
---
This recipe was originally published in the 2021 May issue of Happiful magazine. To purchase your copy, head to shop.happiful.com.
Share this article with a friend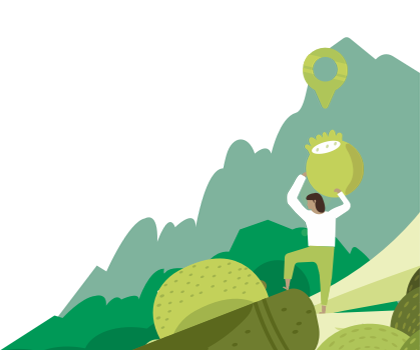 Find a nutritionist dealing with Healthy eating
All nutrition professionals are verified