Healthy eating
Cool-down treats
With the start of summer and holiday plans on the horizon, many of us begin the season with the intention to eat more healthily – or at least, as fresh as possible. When the weather is mild, it couldn't be easier to up your five-a-day, and with so much amazing local produce in season, we're spoiled for choice. 
But as the months drag on and the temperature rises to sweltering, it can take the willpower of steel to resist the temptation to buy all the ice cream van has on offer. And when you're warm and lethargic, the idea of rustling up a healthy snack can feel like a bit too much of an ask. 
These two recipes are personal favourites for when the weather grows unbearable. When you or your family are running out of energy and need something cool, you can make these in a matter of minutes. Best of all, the ingredients are super affordable – in fact, you likely have most of this in stock already!
---
Healthy 'sundae'
Serves 1
This deceptively simple fruity snack is quick to prepare or can be made ahead of time and stored in the fridge. It will be enjoyed by all ages, but also makes a great afternoon snack for the little ones in your family.
Ingredients
150g plain Greek yoghurt
150g fresh or frozen berries (defrosted)
1 small banana
25g oats (around 3 tbsp)
1 tbsp chopped walnuts
1 tbsp sunflower or pumpkin seeds
Method
Place around a third of the yoghurt into the bottom of a 250ml drinking glass.
Add a third of the berries, layering them on top of the yoghurt.
Slice a third of the banana to make the next layer of the sundae. Sprinkle on a third of the oats.
Repeat steps 1–2 twice more until the ingredients are used up. Sprinkle the top of the sundae with the walnuts and seeds.
Tip: You can adjust the ingredients as necessary to make mini versions for the smaller tummies in your family. Or turn it into an activity and make them together!
---
Banana 'ice cream'
Serves 1
This healthy dessert can be made in seconds, as long as you pre-freeze the sliced banana for a minimum of 2 hours or until frozen. Bananas can be stored in a freezer for up to 1 month. 
Ingredients
For the ice cream:
1 frozen banana, sliced 
1 tbsp peanut butter (100% peanuts), optional 
For the toppings:
Handful of fresh or frozen berries
Chopped nuts or seeds
Toasted oats 
Method
Place the banana slices in a food processor or blender, and pulse until it is blended and creamy. For an extra shot of protein and flavour, add a tablespoon of peanut butter while blending. Be sure not to over-blend. You want to be able to scoop the mixture into bowls. If it becomes too soft, put it back into the freezer to set.
Scoop two balls of ice cream' into a bowl. Sprinkle with your chosen toppings and serve immediately.
Tip: This contains no added sugar, but blending the banana increases the 'free sugars' in the recipe (this occurs when a food is processed and the naturally occurring sugars are separated from the nutrients). To protect your smile and keep your pearly whites healthy, drink some water when enjoying this snack.
---
The healthy bit
These cooling recipes are easy to make and are very satisfying when the heat is on. They are also a great way to increase your fruit intake and add some more variety to your diet. 
The berries and bananas are packed full of nutrients, particularly potassium, magnesium and vitamin C. They are also a good source of fibre and slow-digesting carbohydrates. Oats are a great source of carbohydrates and soluble fibre which helps to release energy slowly, keeping your blood sugar levels stable. Oats' soluble fibre – in the form of beta-glucan – helps to lower your cholesterol and promote gut health. Oats are also extremely nutrient-dense and contain important minerals such as phosphorus and copper.
Peanut butter, nuts, and seeds are all rich sources of protein, fibre, and healthy fats. They also help to increase satiety while we eat. Of course, adding Greek yoghurt to any snack will contribute a healthy source of calcium and protein to your diet.
Each of these cool-down snacks is also great to eat for recovery after a tough workout, especially when you are melting from the heat and you can't face eating too much. The carbohydrate in the fruit, oats, and Greek yoghurt will be stored as glycogen, helping to top up depleted energy and maintain energy levels throughout the day. While the protein in the yoghurt, nuts, and seeds will help to repair tired muscles.
With the right balance of carbohydrates and protein to aid your recovery, you will be ready to face the next workout, and the heat, again.
---
This article was published in Happiful Magazine (Issue 74). You can order print copies online, or read the e-magazine for free on the Happiful app.
Looking for more inspiration? Visit our Recipe hub.
Share this article with a friend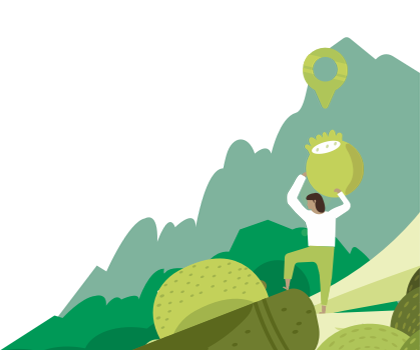 Find a nutritionist dealing with Healthy eating
All nutrition professionals are verified