Ghoulish goodies
The scary season is upon us and, this year, the food really does have eyes! Here at Nutritionist Resource, we love any excuse to dress up and get creative in the kitchen, and this Halloween is no different.
From devilishly good desserts to scary snacks, it's time to (trick or) treat yourself, friends, family and neighbours to these tasty ghoulish goodies from nutritionist and health coach, Kate Dimmer.
Frozen banana monster lollies
Makes 4
Ingredients
100g dark chocolate
2 bananas
4 lolly sticks
3 tablespoons desiccated coconut
Handful of edible eyes
Method
Gently melt the chocolate in a bowl on a pan of hot water or use the microwave.
Cut the bananas in half horizontally, and insert a lolly stick into each half. Either dip the ends of the banana in the melted chocolate, or drizzle it on in messy zig zags.
Sprinkle over the coconut, if using (you might like to drizzle on some more chocolate after).
Add the googly eyes to create your monsters.
Lay the bananas carefully on baking paper and place in the freezer for 1–2 hours.
Options: cut the bananas into bite-sized chunks for smaller lollies. Chopped hazelnuts could be used as sprinkles instead of coconut, or leave without nuts.
Halloween potato skin pizzas
Makes 4
Ingredients
300g jar tomato passata or tomato pizza base sauce (if making at home, see below)
2 large red-skinned baking potatoes, scrubbed
Olive oil
Grated mozzarella cheese
Handful of peppers
Handful of olives
Handful of mushrooms
Handful of carrots
For the pizza sauce
1 can chopped tomatoes
Pinch of dried oregano
1 tbsp tomato puree
Pinch of salt and pepper
Method
Preheat the oven to 180 degrees.
If making the sauce, empty a can of tomatoes into a pan and simmer gently. Season with oregano, a spoonful of tomato puree, salt and pepper, and stir well (you can also blend with a stick blender). Set to one side.
Cut the potatoes in half lengthways and prick them all over. Brush the skins with olive oil. Place the halved potatoes on a baking sheet, and bake for 45 minutes until tender.
When tender, scoop out some of the potato, leaving a shallow layer of potato in each skin. Keep the scooped out potato for something else, such as fish cakes or mash.
Take each potato skin, layer on the tomato sauce, grated cheese and arrange the toppings into creepy monster faces.
Bake for a further 10 minutes until the cheese is bubbly.
Spooky oaty energy balls
Makes 6–8 balls
Ingredients
100g nut butter
40g honey
70g rolled oats
20g sunflower seeds
20g dark chocolate chips (optional)
Handful of edible eyes
Method
In a bowl, add the nut butter and honey, and mix thoroughly.
Stir in the rest of the ingredients until fully mixed.
Take small spoonfuls of mixture (about 4cm in diameter) and roll into balls. Push the edible eyes into the balls.
Line a container with baking paper and gently place the energy balls inside. Refrigerate for 30 minutes and serve. Can be kept refrigerated for up to 7 days.
The healthy bit
Frozen banana monster lollies
The monster banana lollies are fun to make and full of goodness. Bananas are a source of fibre and contain high levels of many vitamins and minerals including vitamin B6, key for brain development, and manganese which contributes to brain function and bone formation.
The addition of dark chocolate gives an extra sweetness without the added ingredients in some shop-bought treats. Dark chocolate (which is dairy-free) is a great source of antioxidants, particularly polyphenols.
Polyphenols can balance the good and bad bacteria in the gut, supporting digestion, mood, and resistance to infections.
Halloween potato skin pizzas
These scrumptious filling 'pizzas' are gluten-free, and a high-fibre alternative to a traditional pizza base. Fibre supports good digestion and happy gut bacteria. The crispy potato skins are packed with energy-boosting nutrients including B vitamins and folate, important for the nervous system.
Tomato sauce adds a dash of antioxidants from the carotenoid family – beta carotene, lutein and lycopene – all important to support your child's immune system and vision. Depending on your choice of toppings, peppers are high in vitamin C so make a good choice for boosting children's natural defences, and increasing their daily vegetable count!
Spooky oaty energy balls
Healthy treats that are easy and enjoyable to prepare, the oat balls contain high fibre, slow-release carbohydrates so provide energy gradually without a quick sugar spike. This kind of fibre is called soluble fibre and helps with regular bowel movements, as well as keeping our good bacteria in balance.
The sunflower seeds, together with the oats and nut butter, make this a protein-packed snack, again keeping blood sugar levels more stable than conventional treats. Sunflower seeds are high in immune-supporting antioxidants vitamin E and selenium, as well as magnesium, important for bone strength and energy production.
---
This recipe was originally published in the 2021 October edition of Happiful magazine, to purchase your copy, visit shop.happiful.com.
Share this article with a friend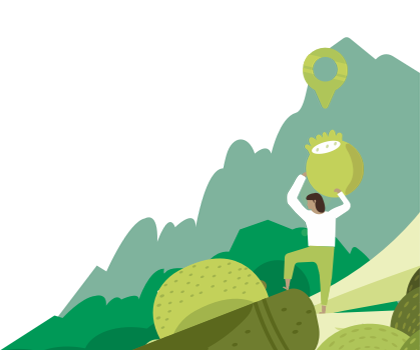 Find the right nutritionist for you
All nutrition professionals are verified