Good mood food
Studies have shown that what we eat can have a profound effect on our moods, and certain foods can even give us a little boost when we're feeling under parr. We're not just talking about fruit and veggies – although they are classic mood-boosters – but some tasty treats can also help bolster us up!
It can be easy to reach for the chocolate or biscuits – that's certainly my go-to – but blood-sugar spikes and crashes from 'quick-fix' foods could leave us feeling worse off. So we've cooked up three recipes that are easy to try at home, and are packed with vitamins and minerals that promote positive mental health. Enjoy!
Berry breakfast smoothie
Makes 4
Ingredients 
100g strawberries

150g blueberries

150g raspberries 

450g greek yoghurt

100ml milk (or non- dairy alternative)

2 tsp of honey

25g porridge oats
Method
In a blender, whiz the berries, yoghurt and milk until smooth. Add the honey and oats, and whiz again for 30 seconds. Pour smoothie into four glasses.
Serve with sprinkled oats and berries, or store in the fridge. Simple!
Rebekah Esdale, mental health nurse and nutritional therapist says, "Smoothies are a quick and easy breakfast option. Berries have a lower glycaemic load compared to most fruit, meaning they are broken down slowly and energy is released more steadily which helps avoid energy spikes and crashes. Opt for plain Greek yoghurt, as there are many sweetened varieties about. Excess sugar and sweeteners can lead to dysregulated blood glucose levels – a stressor for the body and brain."
Greek yoghurt is a fermented food that has probiotic cultures – great for digestive health. This can really help your state of mind.
Dark choc, banana muffins
Makes 12
Ingredients 
3 bananas, mashed

2 eggs

½ cup milk (or non-dairy alternative)

130g maple syrup 

1 tsp pure vanilla extract

1 tsp baking soda

50g dark, unsweetened cocoa powder

130g all-purpose flour

50g dark chocolate chips

1 tsp sea salt
Method
Preheat the oven to 180˚C and grease the muffin tins.
Mash the bananas in a large bowl, combine with the eggs and whisk. Add the milk, maple syrup, and vanilla to the bowl and mix.
While mixing, gradually add the baking soda, cocoa powder and flour until the mixture is a smooth texture. Fold chocolate chips and sea salt into the batter.
Pour mixture evenly into a greased muffin tin, filling each cup up approximately ⅔ full. Bake for approximately 30 minutes, or until a toothpick comes out clean from the centre of the muffin. Set aside to cool.
Enjoy with your mid-morning cuppa!
"The dark choc, banana muffins sound delicious! Bananas contain L-tryptophan – an amino acid involved in the production of our happy hormone (and neurotransmitter), serotonin. This important neurotransmitter helps regulate mood, as well as sleep, appetite, digestion, learning and memory," says Rebekah. "Dark chocolate is a tasty source of antioxidants, which help support blood flow to the brain. This aids memory and concentration, which are often affected when feeling low in mood or anxious."
Feta salad with beef and beets
Serves 2
Ingredients
300g lean beef

50g kale

2 tsp olive oil

2 tsp of wholegrain mustard 

50g rocket

½ red onion, sliced

100g walnuts

1 beetroot, chopped

2 tsp feta, crumbled

Salt and pepper, to season
Method
Preheat the grill to approximately 140˚C.
Season steak with salt and pepper. Place under the grill for approximately 8 minutes each side (or cook to your liking). Leave to stand for 5 minutes before slicing.
Massage the kale leaves with olive oil and wholegrain mustard. Mix the kale and rocket with chopped onion and walnuts. Place the salad in a serving bowl.
Chop the beetroot into small pieces and place on top of the salad. Crumble on feta.
Place the sliced steak on salad, and drizzle with olive oil. Serve.
"This salad is packed with nutrients! Leafy greens such as kale contain iron, B6 and folate. Vitamin B6 is an essential cofactor in the production of our neurotransmitters serotonin and dopamine. Beetroot is a great mood-boosting addition to the salad. This vibrant vegetable can increase blood flow to the brain which ensures adequate oxygen and nutrients are supplied to our most energy-demanding organ."
---
This article was originally published in the October 2020 issue of Happiful Magazine. To purchase your copy, head to shop.happiful.com.
Share this article with a friend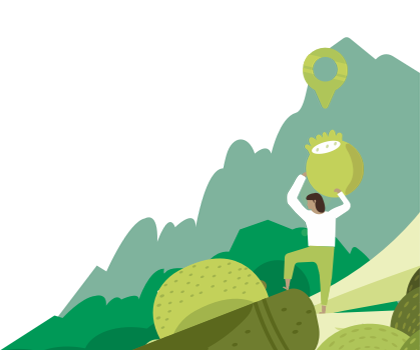 Find the right nutritionist for you
All nutrition professionals are verified