Power hour lunches
When 3pm hits, do heavy eyelids, foggy headache, and waning concentration sound familiar? You might be struggling with the 3pm slump, when your lunchbox hasn't quite made the cut to give you that all-day energy boost. 
When we're pushed for time, we're often tempted to grab something quick and easy from the supermarket shelves. While they might be delicious, they often, sadly, aren't the most nutritious – we're looking at you, white bread, cookies, and cakes! These tempting goodies are great for an energy injection or simple treat, but they might be leaving us feeling even flatter in the afternoons. 
So we've rustled up three simple, delicious recipes that provide a slow release of energy all afternoon to turn your 12–1 into the power hour. Fuel up!
Cold sesame salmon
Serves 2
Ingredients
2 tsp low-salt soy sauce

2 tsp honey

2 tbsp of sesame oil

150g fillet of salmon, baked

1 tsp sesame seeds

1 boiled egg (optional)

75g cannellini beans

Handful of leafy greens
Method
Mix the soy, honey and 1 tablespoon of sesame oil together and marinate the salmon. Leave for 15 minutes, then place salmon on a baking tray, skin-side down. 
Bake for 12 minutes, remove from the oven and sprinkle with sesame seeds. Set aside to cool.  If using, place an egg in boiling water, and simmer for 8 minutes. Plunge into cold water, peel and slice.
Drain cannellini beans, and rinse through. Combine with leafy greens and mix. Lay salmon and sliced egg on the bed of salad and beans, and drizzle remaining sesame oil on top. Yum!
"These three delicious power hour lunches will help you gain the mental edge by staying alert and focused throughout the afternoon," says Rebekah Esdale, mental health nurse and nutritional therapist.
"The 'cold sesame salmon' is a nutrient-packed summer salad. Protein is essential for growth and repair of the body and maintaining good health. A 150g salmon fillet provides 30g of protein, which is around half of an adults' recommended daily amount.
"It's also great to see kale included, as leafy greens are rich in chlorophyll. This amazing compound is rich in essential fatty acids, helps to renew cells, and supports healthy gut microbiota. It's an energising food source, so would greatly benefit anyone experiencing fatigue. Adding an egg would not only pack an extra protein punch but also provide healthy monounsaturated fat. Plus, eggs are rich in choline, an anti-inflammatory nutrient for brain health and memory."
The sweet vegan sarnie
Serves 1
Ingredients
50g almond butter

2 slices of brown rye bread

1 banana, sliced

Ground cinnamon, season
Method
Spread the nut butter equally on both slices of rye bread. Slice the banana into equal portions, and place on top of nut butter. Season with cinnamon, and simply enjoy!
"Avoid reaching for the mid-afternoon biscuits by having a 'sweet vegan sarnie'," Rebekah says. "Rye bread is dense and high in fibre, which will help you to feel fuller for longer. It's a great source of iron, zinc and magnesium. Zinc is important for immunity and needed to make the happy hormone noradrenaline from dopamine.
"Almond butter is a great choice as it's the most nutrient-dense of all nut butters. It's high in vitamin E, and great for hair, skin and nails."
Turkey protein wrap
Serves 1
Ingredients 
½ avocado, sliced

Chilli flakes, season 

Black pepper, season

75g roast turkey breast, sliced

1 whole wheat wrap

½ lemon, drizzle 

Handful of spinach

Handful of rocket
Method
Halve the avocado and slice into even pieces, season with chilli flakes and black pepper.
Arrange the sliced turkey breast and avocado in a line in the centre of the wrap, leaving a small gap at the bottom. Drizzle with lemon juice. Place a handful of spinach and peppery rocket on top, and fold the wrap, burrito-style. Tuck in!
For some spice, mash the other half of the avocado with some chilli flakes, black pepper and a drizzle of olive oil and lemon juice and serve as a tasty dip for the wrap.
"Feel good with this tasty 'turkey protein wrap'," says Rebekah. "Turkey is a great source of the amino acid tryptophan, which builds mood-boosting neurotransmitter serotonin. The vitamin B6 found in the spinach is essential for the conversion of tryptophan into serotonin. Bitter greens, like rocket, also help with digestion and absorption of the healthy fats such as those found in avocado."
---
If you're interested in receiving personalised dietary advice, including recipes and guidance tailored to you and your body, why not speak with a professional? Connect with nutrition professionals online and local to you easily. Simply browse profiles and when you find the person you resonate with, send them an email.
This article was originally published in the September 2020 issue of Happiful Magazine. To purchase your copy, head to shop.happiful.com.
Share this article with a friend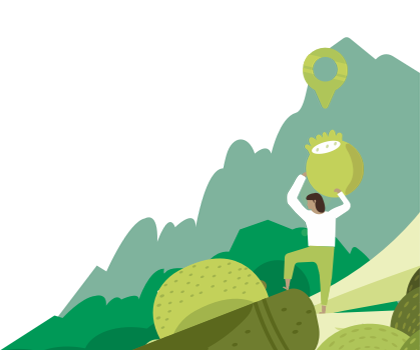 Find the right nutritionist for you
All nutrition professionals are verified