Balanced diet
Four summer drinks recipes
Whether you're in the mood for a morning pick-me-up, want to impress your partner with a weekend brunch, or simply want to get an extra portion of fruit and veg in your life, these drink recipes will do just the trick.
You may have a coffee in the morning, water during the day, and a glass of wine with dinner. Maybe you're more of a fizzy drink person. Whatever your beverage of choice, change can be exciting, and if it gives you extra nutrients and vitamins, as well as a boost of hydration, then even better.
As always, taste is totally personal. If you really don't like celery, that's fine – swap it out. Take inspiration from books, cafes and restaurants as well as friends and family. Experimentation is key and if you've lost your way, playing around with flavour is a great way to kickstart your love for food and drink. Cheers!
Blackberry mint iced tea
Serves 2–3
100g fresh blackberries
6 fresh mint leaves
2 bags of green tea
750ml hot water
Honey, optional
Add the green tea bags to a jug. Pour the hot water into the jug and stir. Add the blackberries, mint leaves and a drizzle of honey, stir well. Leave to steep for 15 minutes. Remove the tea bags and place into the fridge to chill for 3–4 hours. Serve with ice.
Nutrition coach, Susan Hart, says, "A 100g serving of blackberries will not only provide you with more than one-third of your recommended daily allowance (RDA) of vitamin C but also good levels of fibre. If you're concerned about the environment or unnecessary chemicals, consider using loose leaf tea in an infuser, or tea bags that are bleach or plastic-free. To make this refreshing drink vegan, substitute the honey with maple syrup."
Grapefruit mango smoothie
Serves 2
1 small pink grapefruit, peeled and sliced
1 banana, peeled and chopped
1 mango, halved, stoned and chopped
200g natural yoghurt
A handful of ice cubes
In a blender, add the banana, mango and half the grapefruit. Add ice and yoghurt. Blend until smooth, adding a splash of water if too thick. Taste. If you want a tarter flavour, add the remaining grapefruit. Place in the fridge for 30 minutes to chill. Serve.
"This could make a great breakfast or as a post-workout smoothie," says Susan. "By adding a handful of oats, you are not only upping the fibre and protein content, but it will keep you feeling fuller for longer. Try eating the smoothie with a spoon, or sipping it slowly to help aid digestion."
Pineapple kiwi smoothie
Serves 2–4
3 kiwis, peeled and chopped
400g pineapple chunks
200ml water
6 fresh mint leaves
A handful of ice cubes
Add the water, ice, kiwi, mint and pineapple chunks to a blender. Blend until smooth. Serve cold.
"This sounds like a really refreshing and cooling drink. Pineapple contains an enzyme called bromelain, which helps ease inflammation in the body. To make the pineapple softer and juicier, keep it at room temperature for one or two days before using. As well as being anti-inflammatory, a few chilli flakes will add a little kick to the drink."
Orange and carrot juice
Serves 4
6 medium carrots, peeled and chopped
4 sticks celery, peeled and chopped
600ml orange juice
A handful of ice cubes
Add the carrots, celery and 300ml orange juice to a blender. Blend until smooth. Add the ice and remaining orange juice. Blend. Place in the fridge and chill until serving.
"Purple, red, yellow and orange coloured foods are especially high in nutrients," explains Susan.
"In particular, carrots are bursting with antioxidants, which are great for supporting the immune system and maintaining good eye health. While oranges contain high levels of vitamin C. Why not pair this drink with a vegan green stir fry to help the body access the plant-based iron from the veggies?"
---
Susan Hart is a nutrition coach and speaker. As well as delivering healthy eating advice to individuals, groups and organisations, Susan hosts regular wellbeing workshops at Maggie's Cancer Support Centre at Nottingham City Hospital. Susan also runs vegan cooking classes.
This article was originally published in Happiful Magazine. To purchase your copy, head to shop.happiful.com.
Share this article with a friend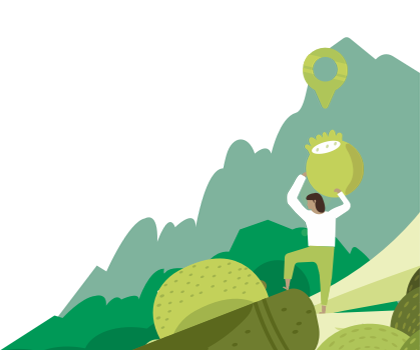 Find a nutritionist dealing with Balanced diet
All nutrition professionals are verified