Healthy eating
Quick, easy lunches to save money
In a recent poll of 2,000 Brits, more than half said they were 'too busy' to make healthy food choices. In fact, two-thirds admitted that they often eat 'badly' because they don't have the time to prepare nutritious food.
We know the struggle. We all lead busy lives.
Maybe you work near eateries that sell fancy salads or fresh sushi. Or maybe you often run to the shop to grab a sandwich or meal deal when you're busy with the kids. The trouble is, yes we can access delicious and often nutritionally balanced lunch choices on the go, but you don't have the same amount of control about the ingredients you're eating as when you prepare food yourself.
And, we're often paying through the nose for it; sometimes grab and go lunches can be just that bit too expensive for you to justify on a day-to-day basis. So, if you're trying to reign in the lunchtime spending, we've put together some cheap and easy recipes that won't cost the earth and won't take you a whole evening to prepare either.
They're all vegetarian options, but the best part about the recipes is that you can easily customise them to suit your own taste!
---
Greek bean salad
Takes five minutes to prepare.
Ingredients
400g tinned mixed beans

1/2 cucumber

Handful cherry tomatoes

Handful black olives

40g feta

Small handful fresh herbs (of your choice)

Lemon juice

Extra virgin olive oil

Salt and pepper
If you want to, you can add some tinned tuna.
Method
Drain and rinse the beans. Chop the cucumber into small cubes and quarter the tomatoes. We love cherry tomatoes for this salad, as they're sweeter than bigger tomatoes, but you can use whatever variety you prefer.
Quarter the olives, crumble the feta and finely chop the herbs. It's traditional to use dried oregano in a Greek salad but we prefer the flavour of fresh herbs. You could use parsley, basil or coriander instead.
Combine everything in a large bowl, add the lemon juice, a generous glug of extra virgin olive oil and some salt and pepper.
Give it a taste before packing it up for your lunch. If it tastes a little dull, add more lemon. If it tastes a bit bland, add more salt. If it's a little dry, add more oil. And if it just needs a little more oomph, add more pepper!
---
Edamame and hummus wrap
Takes 15 minutes to prepare.
Ingredients
100g edamame beans

Lemon juice

Extra virgin olive oil

2 tablespoons tahini

1 clove of garlic

1/2 teaspoon ground cumin

150g very thinly sliced green cabbage

1/2 of a bell pepper

Small handful fresh parsley

1 spinach or whole wheat tortilla

Salt and pepper
If you're not a fan of cabbage, swap it out for some shredded chicken.
Method
Combine the edamame, three tablespoons of lemon juice, two tablespoons of oil, the tahini, chopped garlic, cumin, and a sprinkle of salt and pepper in a food processor. Pulse until fairly smooth.
Whisk a tablespoon of lemon juice and a tablespoon of oil with a sprinkle of pepper. Add in the cabbage, bell pepper, parsley and toss to coat.
Spread the edamame hummus across the lower third of the tortilla and top with the cabbage mixture. Roll closed and cut in half to serve.
---
Broccoli and pesto soup
Takes 20 minutes to prepare.
Ingredients
1 clove of garlic

400g broccoli

400g peas (fresh or frozen)

1/2 jar of basil pesto

Olive oil

Vegetable stock (or chicken stock if you'd prefer)

Salt and pepper

Ricotta cheese
Method
Peel and finely chop the garlic. Trim and roughly chop the broccoli.
Heat a splash of oil in a pan. Soften the garlic for two to three minutes, then add the broccoli and as much stock as you need to for the desired amount and texture of the soup. Simmer until the broccoli is tender.
Add the peas and continue cooking for another five minutes, then remove from the heat blend in a food processor. Add the pesto and either blend again or stir well. Season with salt and pepper to taste.
This can be reheated in the microwave at work. To serve, crumble over the ricotta and hey presto, delicious soup!
Share this article with a friend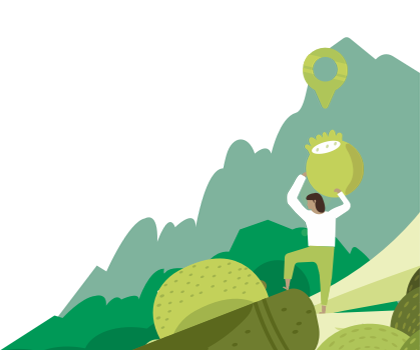 Find a nutritionist dealing with Healthy eating
All nutrition professionals are verified