Healthy eating
Summer recipes
The results are in! Of course, there are many recipes that are perfect for summertime, but sadly, we were limited to just four options. It's also worth noting that this was on a very small scale, but we found the results interesting.
You can find them below:
20% Homemade ice cream
0% Fresh fruit ice lolly
60% Smoothies
20% Frozen grapes/fruit.
The current healthy food trend taking over the Internet is the idea of healthy alternatives for what we believe to be 'treats', for example, ice-cream. We have put some of these popular recipes to the test and have been very impressed with how tasty they can be!
If you have a sweet tooth or a craving for chocolate ice cream for example, you can actually make a banana 'ice cream' at home, with a very similar texture but with more nutritional benefit.
Below, you can find the recipes we tasted and what we thought of them:
Chocolate banana ice cream
This recipe is vegan and gluten-free, perfect for any party guest!
3 frozen bananas
½ tsp cacao powder
1 tbsp almond butter
½ tbsp cacao nibs
¼ cup chocolate almond milk.
Method
This recipe is super easy – you simply add the ingredients to a blender and mix until smooth. If you like your ice-cream slightly runny, you can eat it right away, but if you want it to have a thicker, more frozen consistency, place it back in the freezer for 2-3 hours.
Ginger and mango smoothie
½ cup mango
½ banana
1 cup almond milk
½ tbsp ginger
½ tbsp turmeric
½ tbsp cinnamon
1 tbsp chia seeds
1 tbsp honey.
Method
Another simple recipe and a great on-the-go breakfast or snack. Add all the ingredients into the blender (excluding the chia seeds) and mix until smooth. Add the chia seeds and stir, leaving them to absorb the liquid. This bright yellow smoothie is perfect for summer!
Yoghurt pops
Yoghurt, granola, fruit and honey is one of our favourite breakfast options here at Nutritionist Resource so when we came across this recipe, we jumped for joy!
½ cup strawberries
½ cup mango
½ cup blueberries
3 tbsp granola
1 tbsp honey
1 cup greek yoghurt.
Method
The great thing about this recipe is that you can change the recipe to how you want. If you prefer kiwi and pineapple to berries, try it out! You can experiment with different yoghurt flavours and make a whole new creation, suited to your taste.
You'll need some ice lolly molds, which you can get in most supermarkets. In a bowl, mix the granola and the honey. Next, simply start layering the ingredients – we started with the fruit, then added the yoghurt and finally added the granola to finish. Pop in the freezer for a few hours.
We want to warn you though, they can be a little sticky when trying to remove them from the moulds. Running the molds under warm water for a minute or so seemed to make it easier.
For more recipes, advice and support, you can use our advanced search tool to find a nutritionist near you.
Share this article with a friend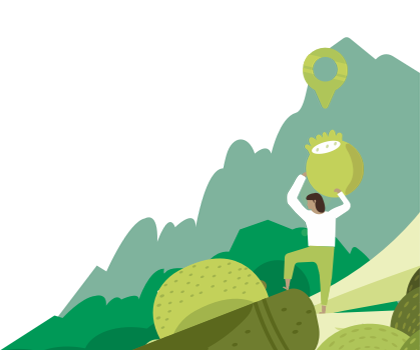 Find a nutritionist dealing with Healthy eating
All nutrition professionals are verified