Healthy eating
Taste test: Breakfast smoothie bowl
A current food trend we continue to spot is the ever so colourful smoothie bowl. A simple idea really – make a smoothie, serve it in a bowl with your choice of toppings. How hard can it be?
Smoothie ingredients
1 cup mixed frozen berries
1 banana
½ cup rolled oats
1 tbsp natural greek yoghurt
splash of water (or milk of choice).
The process is quick and easy. Add all of your ingredients into a blender and blend until thick and creamy. If you want it to be more runny, add more water (though, we like ours to have an ice cream-like consistency!). Pour your smoothie into a bowl and set aside.
Toppings
For this recipe, we decided to add a selection of nuts and berries. Across the top, we added a spoonful of Meridian Smooth Peanut Butter (£2.25) and a handful of pumpkin seeds.
For an extra boost of energy and flavour, we sprinkled half a bag of Elephant Food Brilliant Berry Burst (£1.19). The bag includes dried goji berries, blueberries, cranberries, quinoa, cocoa and bee pollen. It is a great snack to eat throughout the day, but tastes even better as a topping to yoghurt, smoothies or porridge!
After you've added your toppings, it's time to tuck in! If you want the smoothie bowl to be more solid, you can put it in the freezer up to 30 minutes before serving, though we couldn't wait.
Our verdict: We loved this recipe. It was a filling breakfast and kept us going all morning! It was great to know we had already eaten two of our five a day and the yoghurt serving gave us a hit of protein – a great way to start the day!
What do you think of the breakfast smoothie bowl? Would you give it a try? Send us your photos and let us know your thoughts on Facebook, Instagram and Twitter!
Share this article with a friend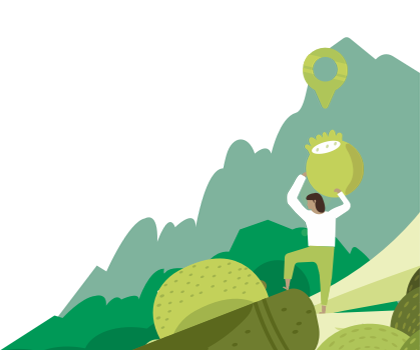 Find a nutritionist dealing with Healthy eating
All nutrition professionals are verified