Healthy eating
Healthy breakfast ideas for weight management
It's a no brainer – eating breakfast is crucial for maintaining a healthy body weight and good levels of well-being.
Breaking your nighttime fast will not only kick-start your metabolism and ensure your blood sugar levels are balanced throughout the morning, it will help you to feel more alert, active and less likely to reach for unhealthy snacks to keep you going until lunch.
If you already have a healthy breakfast staple, such as a bowl of porridge or egg white omelette, then that's great, but we have some recommendations to help you mix your morning meal up a bit – with all the nutritional goodness to keep your weight under control.
Berry English muffin (around 330 calories)
1tbsp natural creamy peanut butter.
1 wholegrain muffin.
1 tbsp dried chia seeds.
½ tsp ground cinnamon.
¼ cup sliced strawberries.
Toast your muffin if you'd like it a bit crispier, then cut in half. Spread the peanut butter on both halves, top with the chia seeds, cinnamon and berries.
Fun fact: This is a high fibre breakfast – containing up to 12 grams – which research shows can help you to eat less before lunch.
Pistachio rice pudding (around 300 calories)
½ cup uncooked instant brown rice.
¾ cup non-fat milk.
15 pistachios.
1tsp brown sugar.
½ tsp cinnamon.
Cook your rice in the milk, and once softened mix in the pistachios. Top with the sugar and cinnamon before eating.
Fun fact: A study published in the Journal of American College of Nutrition found that eating pistachios daily can directly impact BMI. Participants recorded a lower BMI in just 12 weeks of eating pistachios.
Yoghurt and grapefruit parfait (around 250 calories) 
8oz natural yoghurt.
1 tbsp wheat germ.
1/2 tsp honey.
1 tsp ground flaxseed.
1 medium grapefruit.
Mix together the wheat germ and flaxseed and pop into a glass bowl as a base. Alternate layers of yoghurt and grapefruit on top, and then finish with a topping of honey and wheat germ.
Fun fact: According to a study in the Journal of Agricultural and Food Chemistry, eating grapefruit on a regular basis can help lower LDL (bad) cholesterol levels by up to 15%, and triglycerides (some fats) by 27%. 
Pancakes with almond butter and berries (around 330 calories) 
2 whole-wheat pancakes.
1 tbsp almond butter.
¼ cup of blackberries, blueberries and raspberries.
If you have ready-made pancakes, pop them in the toaster or the oven to heat up and then top with the almond butter and berries.
Fun fact: Eating almonds or almond butter for breakfast can be a great way to keep your blood sugar levels steady – according to research published in Nutrition & Metabolism.
Egg white frittata with feta, spinach and mushrooms (around 365 calories) 
2 egg whites.
1 egg.
½ cup chopped fresh spinach.
½ cup chopped button mushrooms.
1 oz feta cheese.
1 tsp fresh coriander.
1 slice whole-wheat bread.
2 oz glass of 100% pomegranate juice.
6oz water.
Whisk together the egg whites and single egg. In a frying pan, add a drop of oil and cook the mushrooms and spinach over a medium heat until spinach wilts. Reduce to low heat, then add eggs. Cover and cook for three minutes until the eggs are firm. Top with the coriander and feta cheese and then serve with toast and pomegranate juice mixed with water.
Fun fact: Pomegranates are packed with antioxidants which can help to boost energy, fight wrinkles and prevent high cholesterol.
Share this article with a friend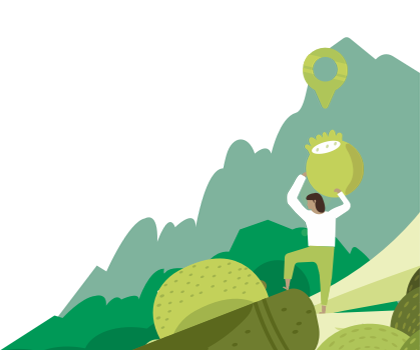 Find a nutritionist dealing with Healthy eating
All nutrition professionals are verified